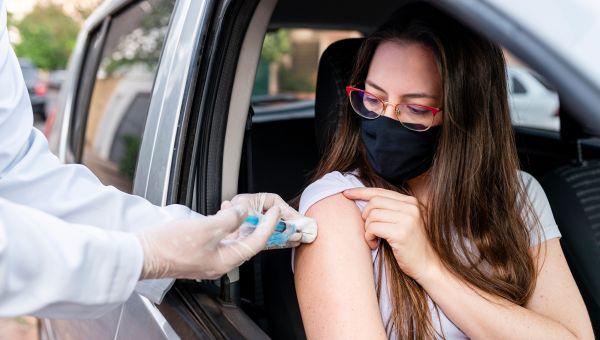 Updated on February 22, 2021 at 3:00pm EST.
Georgia Governor Brian Kemp announced on Thursday, February 18 that the first state-run mass vaccination sites for COVID-19 will open on Monday, February 22. The Georgia Emergency Management and Homeland Security Agency (GEMA/HS) has partnered with Sharecare to facilitate pre-registration for the shots through the website MyVaccineGeorgia.com.
The four drive-through state sites will begin by each dispensing up to 1,100 shots per day—up to 22,000 shots per week, all told—with the number rising as vaccine supply permits. The sites will be open Monday through Friday from 8 a.m. to 5 p.m.
Georgians who qualify under the current phase of the state distribution plan for vaccines can register through the website to receive their doses. Since vaccinations are available by appointment only, it's necessary to pre-register online.
Up till now, vaccinations have been offered by appointment at a variety of medical facilities, grocery stores and pharmacies throughout Georgia. The opening of the state-run sites is part of Georgia's effort to expand access to vaccinations and to ramp up inoculation as rapidly as possible.
Who qualifies to receive the vaccination?
Georgia is currently in phase 1A+ of its vaccination plan. This group comprises people considered at high risk for COVID-19 complications, along with public health officials, including:
Individuals 65 years of age and older, as well as their caregivers
Residents and staff of long-term care facilities
Healthcare personnel
Frontline emergency workers, including law enforcement, fire, EMS personnel and 911 operators
Even those not currently eligible for COVID-19 vaccination may sign up via MyVaccineGeorgia.com to receive email updates on the vaccination process and to find out when they qualify for the vaccine.
How does the vaccination process work?
After registering on MyVaccineGeorgia.com, users will receive an email within 24 to 48 hours to complete the scheduling process. "By pre-registering, you are essentially holding your place in line to receive a vaccine," GEMA/HS director James Stallings said at the Thursday press conference. Participants will then receive a QR code to print or download to their mobile devices, which will be scanned at the vaccination site to confirm their identities.
"We highly encourage people to complete the registration process using a mobile device, which makes the intake process faster," added Stallings.
After receiving their vaccinations, participants will be directed to a parking area where they'll wait 15 minutes under the supervision of health staff to make sure no adverse reactions arise. Having received their first dose, participants can then log back on to MyVaccineGeorgia.com to schedule their second shots.
Where are vaccinations being given?
The locations of the four state-run vaccination sites are:
Southwest Georgia: Albany Georgia Forestry Site (2910 Newton Road, Albany, GA 31701)
Northeast Georgia: Habersham County Fairgrounds (4235 Toccoa Highway, Clarkesville, GA 30523)
Central Georgia: Macon Farmers Market (2055 Eisenhower Parkway, Macon, GA 31206)
Atlanta area: Delta Air Museum, outside Hartsfield-Jackson International Airport (1220 Woolman Place SW, Hapeville, GA 30354)
According to Governor Kemp, the state will continue to open additional sites as necessary.
Which vaccinations are being given?
The two vaccines being administered in Georgia are those that have been granted emergency use authorization by the U.S. Food and Drug Administration. One is made by Pfizer and BioNTech and the other by Moderna. Both have been shown in clinical trials to be effective against COVID-19, with generally mild side effects.