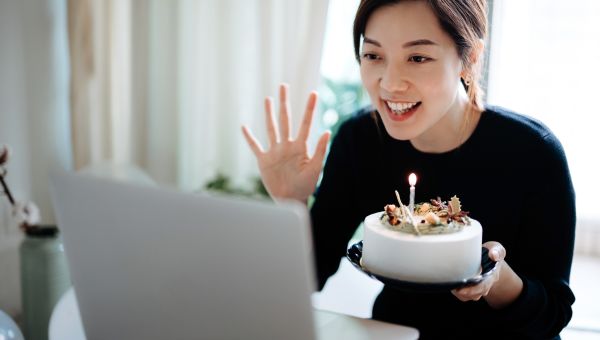 Holiday customs are comforting, but rethinking your routine may lead to positive change. Here's how to adapt this year.
Updated on December 21, 2020 at 1:00pm EST.
U.S. health officials along with doctors and scientists across the country are asking people to stay home this winter as another surge in COVID-19 cases collides with the holiday season. Despite these warnings, many families are choosing to forge ahead with their time-honored holiday traditions, travelling and gathering in large groups of relatives and friends.
In fact, the Transportation Security Administration (TSA) reported conducting more than one million screening on four separate days over the Thanksgiving holiday from November 20 to 29. That's a roughly 40 percent drop since the year before, but it was the busiest week for air travel since the pandemic began.
To be sure, the pull of holiday traditions is especially strong, according to Neda Gould, PhD, a clinical psychologist at the Johns Hopkins School of Medicine in Baltimore, Maryland.
"Traditions help us create times to look forward to and a sense of comfort and stability," says Gould. "They help give structure to the year and to our lives."
As many people struggle to cope with disrupted routines, loss and ongoing stress, anything that provides comfort, stability and structure is more appealing than ever. The desire to relive family memories—opening presents under the Christmas tree, frying up potato latkes for Chanukah or lighting candles on Kwanzaa—is as real as the public health risks that are now involved in those activities.
"It's difficult to let all of this go," Gould says. "It can create a sense of sadness and grief."
This year, however, changing your mindset and avoiding some winter traditions that are too risky could end up being a positive thing, Gould adds. Doing so could help you reset, create special new traditions and start the new year with a fresh outlook.
Is it time for a new beginning?
Rather than dwell on what you shouldn't do, consider using this unusual holiday season to start new traditions, such as trying a new recipe or sending creative video messages to family and loved ones, Gould recommends.
You might also try to practice mindfulness and embrace the more mellow time at home during what can be a stressful time of year for many people due to financial strain, family tensions or other constriants.
Exchanging gifts with friends, family or co-workers is a ritual for many people. And while that may be fun and heart-warming once all the work is done, the shopping, wrapping and shipping leading up to it may feel like a lot of work.
Costs can also add up. There are many less obvious expenses, like postage, wrapping paper and tape. Your grocery budget may also spike during the holidays if you normally entertain.
Many people also start stressing about holiday travel well in advance, worring about everything from road conditions and traffic to airport parking.
The lack of the holiday hustle-and-bustle this year may be a good thing, giving people who get anxious or physically exhausted around the holidays a chance to start fresh, Gould notes. If your traditions haven't served you well in the past, take this opportunity to create new, more positive ones.
Don't overlook the good things
If nothing else, staying home and slowing down this holiday season gives everyone a chance to think about what's important in life, Gould says. A stressed brain tends to overlook the positive, she notes.
"This is a great time for reflection," Gould adds. "We can keep some mental or physical notes about anything we enjoyed about this holiday—were there any silver linings such as not being overextended? During the holiday seasons to come, we can remember that we can simplify our holidays to focus on what really matters."
Find ways to modify your traditions
There are ways you can adapt your holiday customs, honoring your need for traditions while keeping your loves ones and your community protected.
"You don't need to compare this year to other years," Gould says. "Think outside the box. What can we do to bring a little joy this year?"
Some safer ways to celebrate include:
Swap recipes. Exchange your favorite holiday recipes with friends or family via email and try out each other's creations.
Consider homemade gifts. If your budget is tight and you enjoy artsy projects, make your own gifts for family and friends. Rather than spend your time and money shopping, knit a hat or scarf, bake treats or create a photo collage.
Organize a car parade. Instead of caroling or gathering in-person to admire lights and trees, have neighbors decorate their cars and drive around a set course in your neighborhood.
Decorate your space. Even if you're not hosting friends and family this year, decorate your home or apartment to give it a festive feel anyway.
Open presents virtually. Ship presents or leave gifts for family and friends at their doorstep. Then, open them together over a videoconferencing platform, like FaceTime or Zoom.
Buy local. Instead of cooking an involved holiday meal and tiring yourself out, support a small business by pre-ordering one from a local restaurant.
Get crafty. Build gingerbread houses, decorate cookies or make holiday decorations at home. You can share your creations virtually or drop them off at people's homes.
Enjoy the outdoors. Bundling up and taking a winter walk can help you avoid feeling cooped up at home. Depending on where you live, you could even have a socially distant snowman or snow angel contest with your neighbors.
Medically reviewed in December 2020.
Sources:
The Transportation Security Administration (TSA). "TSA holiday screening volumes tick above 1M on several days during Thanksgiving travel period." Dec 1, 2020.
U.S. Centers for Disease Control and Prevention. "Holiday Celebrations and Small Gatherings." Dec 11, 2020.
American Psychological Association. "Navigating the holidays with COVID-19 affected finances." Nov 16, 2020.
Mayo Clinic. "Stress Management: Stress, depression and the holidays: Tips for coping." Dec 11, 2020.