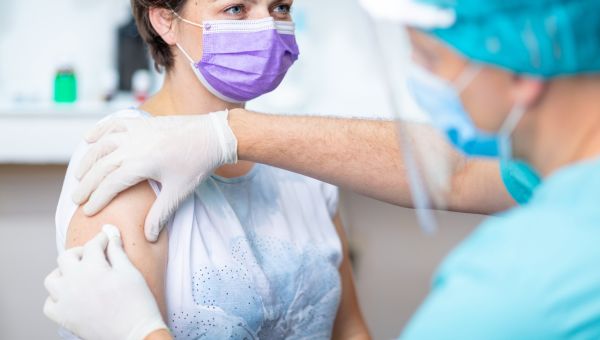 There are now two promising U.S. vaccines in late-stage trials. Find out what happens next.
Updated on November 16, 2020 at 1:00pm EST.
Moderna reveals its coronavirus vaccine, known as mRNA-1273, is 94.5 percent effective against COVID-19. There are now two promising vaccines in the United States shown in trials to be safe and highly effective against the disease.
An independent Data and Safety Monitoring Board (DSMB) conducted a review of the company's Phase 3 human safety trials, which are being conducted in collaboration with the National Institute of Allergy and Infectious Diseases (NIAID).
Based on that review, the Massachusetts-based biotech firm announced its positive early results. The company says it plans to submit for an Emergency Use Authorization (EUA) with the U.S. Food and Drug Administration (FDA) in the coming weeks.
"This is a pivotal moment in the development of our COVID-19 vaccine candidate. Since early January, we have chased this virus with the intent to protect as many people around the world as possible. All along, we have known that each day matters. This positive interim analysis from our Phase 3 study has given us the first clinical validation that our vaccine can prevent COVID-19 disease, including severe disease," said Stephane Bancel, Chief Executive Officer of Moderna in a November 16 company news release.
"This milestone is only possible because of the hard work and sacrifices of so many. I want to thank the thousands of participants in our Phase 1, Phase 2 and Phase 3 studies, and the staff at our clinical trial sites who have been on the front lines of the fight against the virus," Bancel added.
What the early results showed
For Moderna's trial, 15,000 volunteers were given a placebo, or a shot of saline. Another 15,000 volunteers received the experimental vaccine. Overall, 95 of the participants developed COVID-19. Of these people, 90 were in the placebo group while just 5 had received the vaccine.
The review committee noted that 11 of the people who developed COVID-19 had severe cases. All of these people were in the placebo group.
Based on these early findings, the committee concluded that the vaccine was highly successful with an efficacy rate of 94.5 percent.
The committee also found the Moderna vaccine to be safe and well-tolerated among the trial participants. No serious side effects were reported. A small percentage of those who received the vaccine developed mild to moderate symptoms, such as body aches and headaches.
The trial includes a diverse population with 37 percent of volunteers from racial and ethnic minorities.
How Moderna's vaccine works
The vaccine candidate, mRNA-1273, is an mRNA vaccine.
Traditional vaccines for viruses are made from a weakened or inactive virus, but Moderna's vaccine is not made from SARS-CoV-2, the coronavirus that causes COVID-19.
Instead, it works by delivering pieces of genetic material that carry instructions for making the COVID-19 spike protein, which is the protein that SARS-CoV-2 uses to infect cells.
The genetic code, or mRNA, is packaged inside a slippery coating that allows it to slide into cells and tell them to make the spike protein. This prompts an immune response to protect you from catching COVID-19.
Moderna's vaccine is one of two mRNA vaccines for COVID-19 currently in Phase 3 trials. The other is being developed by Pfizer in partnership with Germany's BioNTech and China's Fosun Pharma.
On November 18, Pfizer and the German drugmaker, BioNTech, announced the first set of complete results from their ongoing coronavirus vaccine trial. The results suggests it's 95 percent effective against COVID-19, starting 28 days after the first dose.
The effectiveness of the vaccine was similar for both men and women and people of different races and ethnicities. For adults older than 65, the vaccine was shown to be 94 percent effective. No serious safety concerns have been reported.
Pfizer says that within days it will ask the U.S. Food and Drug Administration (FDA) for Emergency Use Authorization (EUA) of the two-dose vaccine.
One key difference between Pfizer and Moderna
Moderna's vaccine remains stable for 30 days at 36° to 46°F—the temperature of a standard home or medical refrigerator.
At a colder temperature of -4°F, it could remain stable for up to six months, while it may last for 12 hours at room temperature.
Moderna points out that most pharmaceutical distribution companies have the ability to store and ship products globally at -4°F.
"We believe that our investments in mRNA delivery technology and manufacturing process development will allow us to store and ship our COVID-19 vaccine candidate at temperatures commonly found in readily available pharmaceutical freezers and refrigerators," said Juan Andres, Chief Technical Operations and Quality Officer at Moderna in a November 16 news release.
Pfizer's experimental vaccine, on the other hand, must be stored in an ultra or deep freezer at about -94° F in order to remain effective. The company noted that this is a potential barrier to its widespread distribution.
"Risks and uncertainties include, among other things…challenges related to our vaccine candidate's ultra-low temperature formulation and attendant storage, distribution and administration requirements, including risks related to handling after delivery by Pfizer," the company stated in a November 9 news release. Pfizer added there is a possible risk that the company might not be able to successfully develop non-frozen formulations of its COVID-19 vaccine. The company reports, however, that it has developed specially designed, temperature-controlled thermal shippers that use dry ice to maintain the necessary ultra-low temperatures. These shipping units can be used as temporary storage of the vaccine for up to 15 days if they are refilled with dry ice. Each unit is equipped with a heat senor to track its location and temperature during shipment.
What happens next
Based on review of its early Phase 3 trial data, Moderna plans to submit for an Emergency Use Authorization (EUA) with the FDA once it has compiled the minimum required two months of safety and efficacy data. Moderna also plans to submit applications for authorizations to global regulatory agencies.
Meanwhile, Moderna is working with the U.S. Centers for Disease Control and Prevention (CDC), Operation Warp Speed and vaccine distributor, McKesson, to prepare to distribute its vaccine around the world.
By the end of 2020, the company expects to have approximately 20 million doses of mRNA-1273 ready to ship in the United States. Moderna also plans to make up to one billion doses globally in 2021.
Medically reviewed in November 2020.
Sources:
Moderna. "Moderna's COVID-19 Vaccine Candidate Meets its Primary Efficacy Endpoint in the First Interim Analysis of the Phase 3 COVE Study." Nov 16, 2020.
Moderna. "Moderna's Fully Enrolled Phase 3 COVE Study of mRNA-1273." Oct 22, 2020.
National Institute of Allergy and Infectious Diseases. "Promising Interim Results from Clinical Trial of NIH-Moderna COVID-19 Vaccine." Nov 16, 2020.
Pfizer. Pfizer and BionTech Announce Vaccine Candidate Against COVID-19 Achieved Success in First Interim Analysis From Phase 3 Study. Nov 9, 2020.
Moderna. "Moderna Announces Longer Shelf Life for its COVID-19 Vaccine Candidate at Refrigerated Temperatures." Nov 16, 2020.