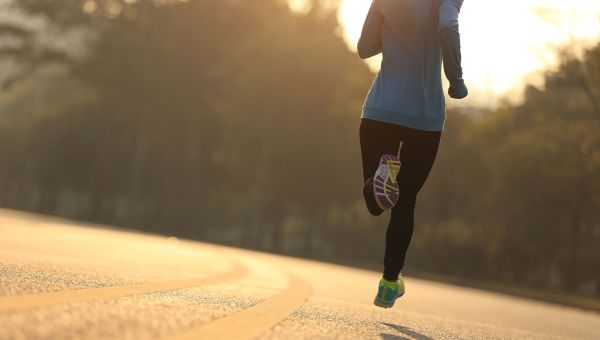 Outdoor workouts can feel overwhelming during the pandemic, but there are ways to safely enjoy the fresh air in your town.
Updated May 8, 2020; 11:00am EDT
In many American cities, gyms are still closed for the foreseeable future. This means exercise enthusiasts are turning to at-home or outdoor workouts—possibly for the first time—to stay in shape.
Pandemic or not, physical activity still remains important for optimal health. According to the Physical Activity Guidelines for Americans, adults should get at least 150 to 300 minutes of moderate-level activity weekly, while strength training all major muscle groups at least twice a week.
But as social distancing restrictions start to bump into warmer weather, getting in adequate exercise can feel like a tall order. How can you safely enjoy the fresh air when more and more people are crowding the streets?
Here are some ideas on how to safely head outside and get your training in.
Maintain proper social distancing
COVID-19 is commonly passed through respiratory droplets that are spread person-to-person in close proximity when someone who is infected coughs, sneezes or even just speaks. These droplets can travel about six feet from an infected person's body, which is why health experts recommend staying at least that far away from folks outside of your household.
Remember that it's fine to exercise outside by yourself or with the people you already live with, but it's not yet the time to meet up with anyone else. If you do happen to see someone else during your walk, run or bike ride, cross the street or move to the side to pass from a safe distance.
Avoid crowded outdoor spaces
Parks, trails and beaches that were popular before the coronavirus pandemic may be more popular than ever. The problem is that it can be tough to socially distance from people even in crowded outdoor recreational areas. In fact, some state and local parks are still closed to try to deter people from gathering in large groups.
Instead, seek new outdoor spaces that are less trafficked. If your parks are open, consider working out in a small corner of the grass or keep your walk to the perimeter of the park.
Another option is sticking to your neighborhood streets. While your town may see an influx of people doing the same thing, there is potentially less car traffic, leaving more space to offer a friendly wave to passersby.
Exercise during non-peak hours
Lunchtime and the late afternoon to early evening are still when many adults want to work out. These can be peak hours, which means you'll encounter more people trying to get fresh air. Schedule permitting, try to do outdoor exercise in the early morning or during other hours in the day.
If you're new to training outside, check out neighborhood apps, like Nextdoor, to connect with other locals, ask questions and get insight on daily patterns specific to where you live. This can help you plan outdoor adventures accordingly.
Wear a mask
The Centers for Disease Control and Prevention currently recommends that adults wear cloth face masks while outside their own homes to prevent further spread of COVID-19. This can extend to outdoor exercises if you will be in close proximity to other people.
Follow the mandates set by your local or state government. If they require that adults wear a mask outside, you will need to follow those guidelines, even while exercising. It may also be impossible to maintain social distance during physical activity in urban areas, so plan to work out with a mask.
Those living in towns and states with no mask regulations or in rural areas may have more flexibility. If your outdoor exercise will keep you at least six feet from others at all times, you may not need to wear a mask—but it's still a good idea to have one handy in case you do encounter people.
If you are wearing a mask while you run or bike, just bear in mind that the covering will impede the volume of air you can take in with each breath. So, you may want to reduce your pace a bit when you work out, at least until your body becomes accustomed to the reduced airflow.
As always, be sure to check in with your healthcare provider before starting a new exercise regimen.
Medically reviewed in April 2020.
Sources:
CDC. "How much physical activity do adults need?" March 19, 2020.
Health.gov. "Staying Active While Social Distancing: Questions and Answers." April 7, 2020.
Dana Kozlov. "Beck, Lightfoot On Stay At Home Order: Citations To Be Issued, Parks Could Be Shut Down." CBS Chicago. March 25, 2020.
CDC. "How to Protect Yourself & Others." April 13, 2020.
Amanda Capritto. "Exercising outside during self quarantine: The do's and don'ts." CNet.com. March 31, 2020.
Aubri Juhasz. "How Runners Can Keep Themselves And Others Safe During The Pandemic." NPR. April 13, 2020.
Emma Dibdin. "How Does Running With a Mask Impact Your Performance?" Runner's World. May 5, 2020.