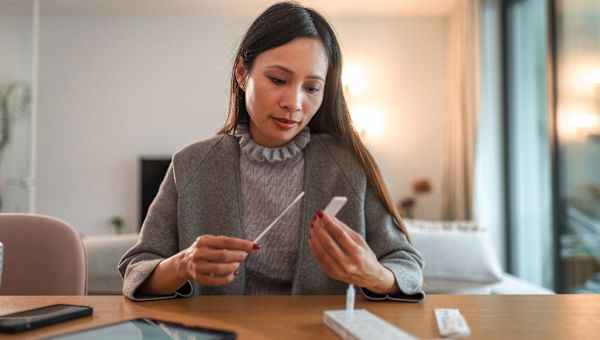 Learn the latest on the new coronavirus, including how to protect yourself, how it affects the body and where we stand on testing and treatment.
Updated on July 16, 2020 at 12:30pm EST.
The World Health Organization (WHO) officially declared COVID-19 a pandemic on March 11, 2020. Since the infection was first reported in late 2019, the disease has affected millions of people around the world—physically, emotionally and financially. The previously unimaginable global crisis has left many people wondering: Where did this disease come from? What does it do to the body and how do people know if they are infected? Will doctors ever be better able to treat—or even prevent it?
Here is what we've learned so far.
The origins of COVID-19
The coronavirus that causes COVID-19 was identified in early January 2020 in Wuhan, China after doctors in the region reported many cases of "pneumonia with an unknown cause." About a month later, scientists officially named the newly identified virus SARS-CoV-2.
SARS-CoV-2 is just one of seven coronaviruses known to cause respiratory symptoms in people. Four of them cause mild infections but three have led to serious illnesses, including Middle East respiratory syndrome (MERS) and severe acute respiratory syndrome (SARS).
These viruses usually circulate among animals, particularly camels as well as cats or bats. On rare occasions, animal coronaviruses can mutate and spread to people.
The outbreak in China was initially linked to a large seafood and animal market in the Hubei province. Scientists believe SARS-CoV-2 originated in bats. There is also speculation that the virus then spread to pangolins before infecting humans.
Warning signs of infection
People infected with COVID-19 have developed a range of symptoms associated with a respiratory infection.
The most commonly reported symptoms include:
Fever
Dry or productive cough
Fatigue
Loss of sense of smell or taste
Shortness of breath
Sore throat
Headache
Muscle and joint pain
Chills
Less commonly reported symptoms include nausea or vomiting and diarrhea.
About 15 percent of cases result in severe illness and complications, including pneumonia and trouble breathing. Another 5 percent of cases are critical, leading to more serious issues, including respiratory failure, septic shock and organ failure.
Researchers are still investigating how the coronavirus affects the body, but symptoms tend to develop, on average, about five days after exposure. In some cases, the SARS-CoV-2 incubation period—the amount of time between exposure to an infection and when symptoms begin—may be even longer than 14 days.
Some people have also tested positive for COVID-19 up to 3 days before they developed symptoms while others have tested positive even though they never developed any symptoms at all. This supports the idea that people can be infectious and shed the virus even before they realize they are sick. This has made controlling the pandemic much more challenging.
Those at greatest risk
Anyone can develop COVID-19 but older people seem to be among those at highest risk for serious disease. The immune system weakens with age and older people are more likely to have underlying health issues, which also increase the risk for COVID-19-related complications.
Those with a weakened immune system or chronic conditions, such as high blood pressure, severe obesity, diabetes, heart disease, chronic lung disease or cancer, are more likely to develop severe cases of COVID-19 and related complications.
Keep in mind, even otherwise healthy younger adults can also develop a more serious infection that requires hospitalization. The risk of dying, however, is much greater for older people.
How the infection spreads
Scientists have warned that COVID-19 spreads mainly through contaminated respiratory droplets that are emitted when infected people cough or sneeze and possibly when they breathe or speak.
When these droplets escape the body they may land in a nearby person's mouth, nose or eyes. They can travel about six feet before settling on a nearby surface. If you touch a contaminated surface then touch your mouth, nose or eyes, you can also become infected.
It is not yet clear how long SARS-CoV-2 survives on surfaces, but the WHO notes that early evidence suggests it may persist for up to several days, depending on the type of surface and other variables, like temperature and humidity.
Airborne spread, however, involves aerosols—particles even smaller than respiratory droplets that may waft and linger in the air.
Aside from medical procedures that are known to emit aerosols, such as intubations, airborne transmission of SARS-CoV-2 is still under investigation. On July 9, 2020, the World Health Organization updated its guidelines, noting it could be possible in some other indoor settings.
"Outside of medical facilities, some outbreak reports related to indoor crowded spaces have suggested the possibility of aerosol transmission, combined with droplet transmission, for example, during choir practice, in restaurants or in fitness classes," the revised guidelines state. "In these events, short-range aerosol transmission, particularly in specific indoor locations, such as crowded and inadequately ventilated spaces over a prolonged period of time with infected persons cannot be ruled out."=
More research is needed to determine how much airborne transmission may be contributing to the spread of COVID-19.
Diagnosing COVID-19
When experts talk about testing for SARS-CoV-2, they're really referring to two different categories: diagnostic tests and antibody tests.
There are two types of diagnostic tests being used: a polymerase chain reaction (PCR) test and an antigen test. Both of these tests check for the coronavirus itself, using saliva or a respiratory sample collected by nasal or throat swab. The results are intended to reveal whether or not you're currently infected.
PCR tests look for evidence of genetic material from the virus. Antigen tests are designed to detect fragments of proteins found on or inside the virus.
PCR tests are typically more accurate than antigen tests but take longer—hours or days—to process. Antigen tests, on the other hand, can provide results within minutes. Although positive antigen test results are very reliable, these tests tend to miss more cases than PCR tests. So a negative antigen test result may need to be confirmed with a PCR test.
Unlike these two types of diagnostic tests, an antibody test doesn't tell you if you have the disease right now. It helps determine if you've been infected in the past.
Rather than testing respiratory specimens collected by swabs, antibody tests (also called serology tests) check your blood for antibodies to SARS-CoV-2, which would indicate a past encounter with the virus.
People with antibodies in their blood may be able to donate their plasma—essentially lending another person some antibodies—for the treatment of those who are sick with COVID-19.
It's important to understand, however, that it's not yet certain that having antibodies to SARS-CoV-2 means you're immune. It's still unclear how much protection these antibodies will provide and for how long.
Treating COVID-19
There are no specific drugs or treatments for illnesses caused by human coronaviruses, including COVID-19.
In most cases, people with mild or moderate infections can manage their symptoms and recover at home. Supportive care, such as over-the-counter pain relievers, getting plenty of rest and drinking fluids, can help. Those with more serious cases who require hospitalization may need more specialized care, including IV fluids, medications, oxygen support or dialysis.
How to protect yourself
There is currently no vaccine to prevent COVID-19.
U.S. researchers gave the first shots of an experimental coronavirus vaccine to a human vaccine trial participant on Monday, March 15. It's one of dozens of COVID-19 vaccines in development around the world.
Although the development of a safe and effective vaccine can take years, scientists working hard to develop a COVID-19 vaccine have hinted at early successes with newer technologies.
Even once a vaccine is approved, however, it will take time to manufacture and distribute to the world. In the meantime, there are steps you can take to prepare for COVID-19 and reduce your risk of infection.
One of the best ways to avoid exposure to SARS-CoV-2 is to just stay home and only go out in public when necessary. If you do leave home, practice social distancing—keep at least six feet of space between you and others.
U.S. and state health officials are also advising Americans—whether they have symptoms or not—to wear nonmedical coverings, such as scarves or cloth masks, over their noses and mouths when going out in public.
Other ways to help prevent the spread of COVID-19:
Wash your hands well and often with soap and water for at least 20 seconds each time. If you don't have access to soap and water, use a hand sanitizer than contains at least 60 percent alcohol.
Avoid touching any part of your face, including your eyes, nose or mouth with unwashed hands.
Cover your cough or sneeze with an unused tissue, then throw the tissue in the trash. If you don't have a tissue, use your upper sleeve or elbow—not your hands.
Clean and disinfect commonly used objects and surfaces you come into contact with throughout your day, such as computer keyboards, cell phones, doorknobs, faucets and bathroom fixtures with household cleaning sprays or wipes. Effective products include diluted household bleach solutions or cleaners with at least 70 percent alcohol as well as most common EPA-registered household disinfectants.
Avoid people with suspected or confirmed infections
If you think you're infected
If you believe you were exposed to COVID-19 or if you, or someone in your home, has symptoms consistent with a respiratory infection, don't panic.
Instead, take immediate steps to isolate yourself to avoid spreading your illness to others. This means keeping distance between yourself and the other people in your home. Call your healthcare provider (HCP) for instructions. Do not go to your doctor's office without calling ahead first and letting the office staff know that you suspect you've been exposed to COVID-19.
Your doctor should determine if you can be treated at home, and also determine if you should be tested for the coronavirus and where that should be done.
If you develop serious warning signs of COVID-19, however, you need to seek immediate medical attention. These red flags may include:
Difficulty breathing or shortness of breath
Persistent pain or pressure in the chest
Feeling confused
Bluish lips or face
Call 911 and let the operator know that you have or think you may have COVID-19. If you have a medical mask, put it on before help arrives.
Medically reviewed in May 2020.
Sources:
Centers for Disease Control and Prevention. "2019 Novel Coronavirus (2019-nCoV), Wuhan, China."
World Health Organization. "Coronavirus."
Centers for Disease Control and Prevention. "Severe Acute Respiratory Syndrome (SARS)."
Centers for Disease Control and Prevention. "Middle East Respiratory Syndrome (MERS)."
Centers for Disease Control and Prevention. "Coronavirus: Transmission."
Centers for Disease Control and Prevention. "2019 Novel Coronavirus, Wuhan, China."
Centers for Disease Control and Prevention. "Coronavirus: Prevention and Treatment."
Centers for Disease Control and Prevention. "2019 Novel Coronavirus, Wuhan, China: Interim Guidance for Healthcare Professionals."
The Edmond J. Safra Center for Ethics at Harvard University. "Roadmap To Pandemic Resilience."
Mayo Clinic. "COVID-19 saliva tests: What is the benefit?"
U.S. Food and Drug Administration. "FAQs on Testing for SARS-CoV-2."
SusanPayne. "Viruses From Understanding to Investigation." Chapter 6 - Immunity and Resistance to Viruses. Academic Press. 2017, Pages 61-71.
U.S. Food and Drug Administration. "Coronavirus (COVID-19) Update: Serological Test Validation and Education Efforts."
U.S. Food and Drug Administration. "Policy for Coronavirus Disease-2019 Tests During the Public Health Emergency (Revised)."
U.S. Food and Drug Administration. "Insight into FDA's Revised Policy on Antibody Tests: Prioritizing Access and Accuracy."
World Health Organization. "Advice on the use of point-of-care immunodiagnostic tests for COVID-19."
Centers for Disease Control and Prevention. "Symptoms of Coronavirus."
World Health Organization. "Coronavirus disease 2019 (COVID-19) Situation Report – 73."
SA Lauer, KH Grantz, Q Bi, et al. "The Incubation Period of Coronavirus Disease 2019 (COVID-19) From Publicly Reported Confirmed Cases: Estimation and Application." Annals of Internal Medicine. 2020;M20-0504. doi:10.7326/M20-0504.
Centers for Disease Control and Prevention. "Presymptomatic Transmission of SARS-CoV-2 — Singapore, January 23–March 16, 2020."
World Health Organization. "Q&A on coronaviruses."
Centers for Disease Control and Prevention. "Coronavirus Disease 2019 (COVID-19)."
American Lung Association. "Learn About Pneumonia."
National Kidney Foundation. "What is Kidney Failure?"
Centers for Disease Control and Prevention. "What to Do if You Are Sick."
Han C, et al. "Digestive Symptoms in COVID-19 Patients with Mild Disease Severity: Clinical Presentation, Stool Viral RNA Testing, and Outcomes." The American Journal of Gastroenterology. 2020.
Centers for Disease Control and Prevention. "Severe Outcomes Among Patients with Coronavirus Disease 2019 (COVID-19) — United States, February 12–March 16, 2020."
Centers for Disease Control and Prevention. "What To Do if You Are Sick."
Centers for Disease Control and Prevention. "Testing for COVID-19."
Centers for Disease Control and Prevention. "Testing in U.S."
U.S. Food and Drug Administration. "FAQs on Testing for SARS-CoV-2."
U.S. Food and Drug Administration. "Coronavirus (COVID-19) Update: Serological Test Validation and Education Efforts."
U.S. Food and Drug Administration. "Policy for Coronavirus Disease-2019 Tests During the Public Health Emergency (Revised)."
U.S. Food and Drug Administration. "Insight into FDA's Revised Policy on Antibody Tests: Prioritizing Access and Accuracy."
U.S. Food and Drug Administration. "LabCorp COVID-19 RT-PCR test EUA Summary."
U.S. Food and Drug Administration. "Coronavirus (COVID-19) Update: FDA Authorizes First Antigen Test to Help in the Rapid Detection of the Virus that Causes COVID-19 in Patients."
U.S. Food and Drug Administration. "Coronavirus Testing Basics."