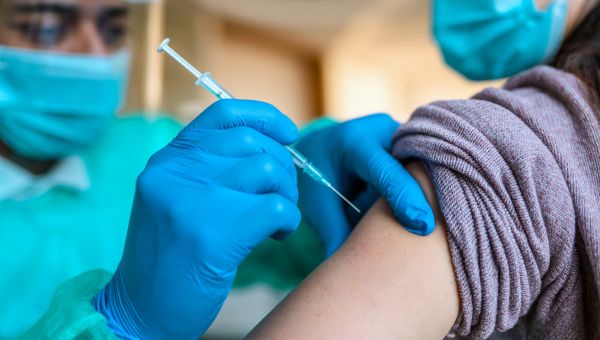 After releasing its most recent data, the company plans to request authorization for use in the United States.
Updated on March 25, 2021 at 10:00am EDT.
More than a year ago, the effort to develop even one safe and effective COVID-19 vaccine was a daunting challenge. Now, as of March 24, 14 percent of Americans have been fully vaccinated with one of three available vaccines and a fourth vaccine may soon receive a green light from the U.S. Food and Drug Administration (FDA) and the Centers for Disease Control and Prevention (CDC).
AstraZeneca reported the most recent results from its large U.S. clinical trial on March 25. The company says that its two-dose vaccine, called AZD1222, was shown to be 76 percent effective at preventing symptomatic COVID-19 and 100 percent effective at preventing severe infection and hospitalization.
Just two days earlier the company released interim results from its U.S. trial, which were based on older data current as of February 17. At that time, the company said its vaccine was 79 percent effective at preventing symptomatic COVID-19.
The Data and Safety Monitoring Board (DSMB), an independent panel of medical experts helping to oversee the trial, immediately accused AstraZeneca of cherry-picking data, noting the outdated information could provide an "incomplete view" of the vaccine's efficacy.
AstraZeneca issued its most recent data within 48 hours, pointing out that its most recent results are "consistent" with the interim analysis. The final results may change slightly since there are 14 additional cases of COVID that need to be evaluated.
The most recent data, which are considered the primary analysis of the trial, will be the results presented to the DSMB and submitted to the U.S. Food and Drug Administration for Emergency Use Authorization (EUA) in the United States in the coming weeks.
The vaccine, which was developed in partnership with Oxford University, is already in use in more than 70 countries around the world.
What the U.S. trial found
The U.S. Phase 3 trial of AZD1222 included a diverse population of more than 32,000 people, representing different races and ethnicities. Of those involved in the trial, 20 percent were older than 65-years of age and some 60 percent had underlying health issues, such as diabetes, cancer, obesity or heart disease, that increase their risk for severe COVID-19.
The trial showed that the vaccine had 76 percent efficacy at preventing symptomatic COVID-19 and no one who received the vaccine was sick enough to be hospitalized. The effectiveness of the vaccine was consistent across all backgrounds and age groups. The researchers noted that even among those age 65 or older, the vaccine was 85 percent effective in preventing severe infections.
"These findings reconfirm previous results observed in AZD1222 trials across all adult populations but it's exciting to see similar efficacy results in people over 65 for the first time," said the study's co-lead principal investigator, Ann Falsey, professor of medicine at the University of Rochester School of Medicine in a March 22 news release.
The vaccine was also shown to be safe and well-tolerated among trial participants. No serious safety concerns were reported. This was a particularly important finding as several countries recently halted use of the vaccine following recent reports of blood clots in some vaccinated people.
In the U.S., the DSMB conducted a specific review of clotting issues, including a type of blood clot in the brain called cerebral venous sinus thrombosis (CVST). Among more than 21,000 people, the monitoring board found no increased risk for clotting events.
How the vaccine stacks up
There are currently three vaccines authorized for use in the United States: Pfizer, Moderna and Johnson & Johnson. Here's how they compare to AstraZeneca's:
They work differently. The COVID-19 vaccines made by Pfizer and Moderna were granted EUA in December 2020. They are both two-dose mRNA vaccines that work by using mRNA to deliver a piece of genetic material that carries instructions for making the protein that the coronavirus (SARS-CoV-2) uses to infect cells. This triggers an immune response in the body that protects you from COVID-19.
The J&J vaccine, which was authorized in February 2021, is not an mRNA vaccine. It's a non-replicating viral vector vaccine. Rather than using mRNA, it uses a modified version of another type of virus as a vector (or mode of delivery) for genetic material that codes for a piece of the coronavirus in order to trigger a protective immune response. The viral vector used by the J&J vaccine is a common cold virus called adenovirus 26. But the vaccine does not cause an infection with either this virus or the coronavirus.
AstraZeneca's vaccine relies on similar technology. It uses another type of harmless virus to deliver biological instructions for how to fight off the coronavirus that causes COVID-19. In this case, scientists swapped the replication genes in a weakened version of a chimpanzee adenovirus for genes that carry the message for making a COVID-19 protein that triggers the production of antibodies for the disease.
Efficacy rates differ but they all save lives. The Pfizer vaccine was shown to be 95 percent effective against COVID-19, while the Moderna vaccine was shown to be 94.1 percent effective.
Overall, the J&J vaccine was shown to be 66 percent effective against moderate to severe COVID-19 after 28 days. In clinical trials, however, the J&J vaccine prevented 100 percent of hospitalizations and deaths.
The efficacy rates of AstraZeneca and J&J's vaccines are not as high as Pfizer and Moderna's vaccines. But these efficacy rates from clinical trials don't tell the whole story and it's a bit like comparing apples and oranges.
The Pfizer and Moderna clinical trials were conducted before the coronavirus variants emerged. And while researchers have been using laboratory tests to assess how well those who've been immunized with these mRNA vaccines are protected from worrisome mutations, the J&J and AstraZeneca vaccine trials were conducted in areas where concerning variants have been identified.
The effectiveness of the J&J vaccine in protecting against moderate to severe infection varied geographically, ranging from 72 percent in the United States to 68 percent in Brazil.
The vaccine was also nearly 82 percent effective against severe disease and 64 percent effective against moderate disease in South Africa where 95 percent of all COVID-19 cases involved in the trial were linked to a more infectious coronavirus variant, known as B1351.
A March 16 study published in the New England Journal of Medicine found that AstraZeneca's vaccine was not protective against mild-to-moderate disease from the worrisome South African variant.
Dosage and storage requirements vary. There are other key differences between the four vaccines, including how they are administered and how they are stored. The recommended amount of time between dose 1 and dose 2:
Pfizer: 21 days
Moderna: 28 days
AstraZeneca: 28 days, but preferably up to 84 days to improve efficacy
The J&J vaccine, however, is a one-dose vaccine. This means people only need to get one shot for the vaccine to be effective.
The differing storage requirements of the vaccine also play a role in how quickly and easily they can be distributed, particularly in underserved or remote areas.
The Pfizer vaccine must be stored at ultra-low temperatures of between -112 and -76° Fahrenheit. Before mixing, however, the vaccine may be stored at between -13 to 5° Fahrenheit for up to two weeks.
Moderna's vaccine only requires a normal freezer and can be stored at between -13 to 5° Fahrenheit. Vials of this vaccine may be stored in the refrigerator at between 36 and 46° Fahrenheit for up to 30 days before they are punctured.
The fact that the J&J and AstraZeneca vaccines rely on harmless viruses to deliver the genetic code for the coronavirus protein that will trigger an immune response means they can be stored in a normal refrigerator and remain stable for longer periods of time.
J&J says its vaccine will remain stable (and effective) for three months at 36 to 46° Fahrenheit. Meanwhile, AstraZeneca's vaccine can be stored for up to six months at these normal refrigerated conditions.
Why authorization in the U.S. is important
Even if AstraZeneca's vaccine is granted an EUA, there will likely already be enough Pfizer, Moderna and J&J vaccines to immunize every adult in America.
In March, the Biden administration announced that it will have secured enough doses for all adults in the United States by the end of May. The U.S. has contracts to buy millions more vaccine doses than currently needed. As a result, President Biden has finalized plans to loan millions of doses of AstraZeneca's vaccine to Mexico and Canada.
So why does the EUA of this fourth COVID-19 vaccine even matter?
If the AstraZeneca vaccine is granted EUA in the United States, it would reportedly help boost confidence in the vaccine in other parts of the world where it is desperately needed.
"This pandemic will not end for anyone, until it ends for everyone," stated Obiora Okafor, an independent expert on human rights and international solidarity, in a January 22 statement from the United Nations.
Ensuring that all nations have access to a vaccine is critical to controlling the coronavirus that causes COVID-19. People in all countries must be vaccinated to stop the virus from spreading and evolving ways to resist immunity.
Medically reviewed in March 2021.
Sources:
AstraZeneca. "AZD1222 US Phase III primary analysis confirms safety and efficacy. Mar 25, 2021.
AstraZeneca. "Update following statement by NIAID on AZD1222 US Phase III trial data." Mar 23, 2021.
U.S. National Institute of Allergy and Infectious Diseases. "NIAID Statement on AstraZeneca Vaccine. Mar 23, 2021.
Centers for Disease Control and Prevention. COVID Data Tracker. Mar 21, 2021.
AstraZeneca. "AZD1222 US Phase III trial met primary efficacy endpoint in preventing COVID-19 at interim analysis." Mar 22, 2021.
Shabir A. Madhi, Ph.D., Vicky Baillie, Ph.D., Clare L. Cutland, Ph.D., et al. Efficacy of the ChAdOx1 nCoV-19 Covid-19 Vaccine against the B.1.351 Variant. New England Journal of Medicine. Mar 16, 2021.
Centers for Disease Control and Prevention. Science Brief: Emerging SARS-CoV-2 Variants. Jan 28, 2021.
Wise J. Covid-19: New data on Oxford AstraZeneca vaccine backs 12 week dosing interval BMJ 2021.
The White House. "Remarks by President Biden on the 100 Million Shot Goal." Mar 18, 2021.
United Nations. "UN expert says global coordination and more equitable sharing of COVID-19 vaccines key to recovery." Jan 22, 2021.