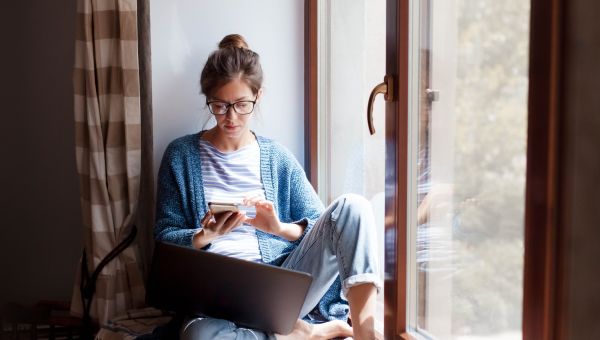 A 14-day quarantine is still the best way to reduce the risk of spreading COVID-19.
Updated on December 2, 2020 at 3:30pm EST.
U.S. health officials have eased their quarantine guidelines for anyone exposed to COVID-19, advising that, in certain situations, shorter quarantine periods may be acceptable.
To be clear, a 14-day quarantine remains the most effective way to reduce the risk of spreading the disease. That advice as not changed.
On average, symptoms appear 5 to 6 days after exposure. In some cases, the incubation period for the coronavirus—the amount of time between exposure to an infection and when symptoms begin—may be up to 14 days.
But the Centers for Disease Control and Prevention (CDC) now says that a quarantine can end after 10 days if the person has not developed any symptoms, or after just seven days if the person doesn't have any symptoms and also tests negative for the virus after taking a PCR or rapid-result test within 48 hours.
Unlike isolation, which is required for those who test positive for COVID-19, quarantine applies to those who are classified as "close contacts" of someone diagnosed with the disease. This means they were within 6 feet of an infected person for a combined 15 minutes or more over a 24-hour period, starting from 2 days before the patient developed symptoms.
Anyone who cared for someone with COVID-19 in their home, had direct physical contact, shared cups or utensils or were coughed or sneezed on by an infected person are also considered close contacts.
The CDC's virus incident manager, Henry Walke, MD, noted these "two acceptable alternatives" will hopefully encourage more Americans to comply with the guidelines as newly confirmed cases continue to surge in many parts of the country.
"We continue to refine our guidance to prevent transmission and protect Americans," Dr. Walke said. "Reducing the length of quarantine may make it easier for people to follow critical public health action by reducing the economic hardship associated with a longer period, especially if they cannot work during that time."
Even if quarantine for exposure to COVID-19 ends after 7 or 10 days, people should monitor their symptoms for 14 days, the CDC noted.
While many health experts agree the possible benefits of the revised guidelines outweigh the drawbacks, risks do remain.
"We can safely reduce the length of quarantine but accepting there is a small residual risk that a person who is leaving quarantine early could transmit to someone else if they became infectious," said John Brooks, MD, the CDC's chief medical officer for the COVID-19 response during a December 2 telebriefing.
Research and disease modelling suggest that ending a quarantine after 10 days without a negative test results in about a 1 percent risk of spreading the virus to others, with an upper limit of about 10 percent, according to the CDC. After 7 days—even with a negative test—there is still a roughly 5 percent chance of spreading the virus with an upper limit of about 12 percent.
Medically reviewed in December 2020.
Sources:
Centers for Disease Control and Prevention. "CDC MEDIA TELEBRIEFING: Update on COVID-19." Dec 2, 2020.
Centers for Disease Control and Prevention. "Options to Reduce Quarantine for Contacts of Persons with SARS-CoV-2 Infection Using Symptom Monitoring and Diagnostic Testing." Dec 2, 2020.
Centers for Disease Control and Prevention. "Interim Clinical Guidance for Management of Patients with Confirmed Coronavirus Disease (COVID-19)." Nov 3, 2020.
Centers for Disease Control and Prevention. "CDC COVID Data Tracker." Dec 2, 2020.
Centers for Disease Control and Prevention. "When to Quarantine." Oct 27, 2020.