Contrary to previous thought, eating eggs regularly may help protect the eyes, and the cardiovascular system.

Regular egg yolk consumption may reduce the risk of dry, age-related macular degeneration by raising macular pigment concentrations of lutein and zeaxanthin in patients with low levels. A 5-month study in 52 elderly subjects taking statins found that LDL cholesterol levels were unaffected even when they ate as many as four yolks per day. Good HDL cholesterol increased in patients eating the eggs.

"Two eggs per day is probably all that is needed to maximize blood levels of lutein and zeaxanthin as well as macular pigment optic density (MPOD) status," according to the study's author.

Previous studies already supported the notion that regular moderate egg consumption of about 6 eggs a week does not raise bad cholesterol. It is wonderful to see good cholesterol increased as well. We recommend to our patients that the healthiest way to cook an egg may be by poaching, soft boiling or hard boiling. This way the yolk (and its cholesterol) is not oxidized. Oxidized cholesterol may be significantly less healthy for the cardiovascular system.

An ancient symbol of fertility, eggs also have choline, which benefits the brain and lowers inflammation. Egg proteins can prevent blood clots and lutein may also prevent cataracts.

Another note to keep in mind is that this work is supported in part by the American Egg Board in Washington, DC – so there may be some bias, but it does seem to corroborate previous studies on the 'incredible edible egg.'

References:

Vishwanathan R, et al. (2009) Consumption of 2 and 4 egg yolks/d for 5 wk increases macular pigment concentrations in older adults with low macular pigment taking cholesterol-lowering statins. The American Journal of Clinical Nutrition 90: 1272–1279

Cho HJ, Ham HS, Lee DS, Park HJ. Effects of proteins from hen egg yolk on human platelet aggregation and blood coagulation. Biol Pharm Bull. 2003 Oct;26(10):1388-92. 2003.

Jensen HH, Batres-Marquez SP, Carriquiry A, Schalinske KL. Choline in the diets of the US population: NHANES, 2003-2004. The FASEB Journal 2007;21:lb219. 2007.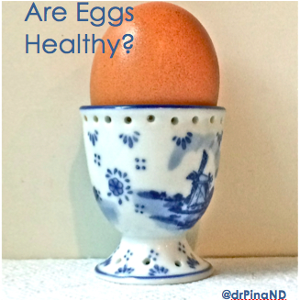 Eggs may be nature's perfect food; they contain healthful fats, protein and cholesterol that are essential for good health. Watch me explain why eggs, yolks and all, are a great choice, and which types are best to eat.
In my opinion, eggs are hands down one of the best values in the grocery store: 1 egg has just 70 calories, but packs 6 grams of high quality protein, more than a dozen vitamins, minerals, and nutrients like choline (important for a healthy brain and nervous system). Plus, the 2010 U.S. Department of Agriculture (USDA) nutrition data found that the average egg in America now contains 64% more vitamin D than it did in 2002, likely due to differences in the diet of the chickens.

Fire up the skillet from time to time, but skip the butter and sauté eggs in olive oil or canola oil for a heart healthy boost. For zero added fat, enjoy poached eggs on whole grain toast or hard boiled eggs with some fresh fruit for a delicious snack.
Continue Learning about Cooking & Health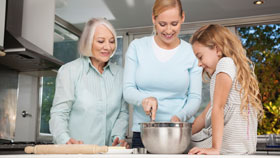 Most Americans don't prepare meals from scratch, and many eat out frequently. Reconnecting with food by cooking it can improve not only taste but health. How you cook can make a difference not only to taste, but nutrition. Boiling ...
broccoli or cabbage can destroy antioxidants. Microwaving or cooking on a griddle can preserve them. Stir-frying can be a good, quick way to prepare food too. Frozen and fresh vegetables have similar nutrient levels (not always similar taste). Canned foods do not. Some foods require adequate cooking time to ensure safety. If you think you don't have time to cook, a little planning can go a long way. Veggies may be pre-cut when time permits, and beans or pasta can be prepared in advance without loss of flavor or nutritional value. Many recipes may be modified to lower fat or sugar variations.
More