I recommend eating vegetables raw or lightly steamed. Many times cooking a vegetable causes it to lose its beneficial qualities as they are being burned away. Also, eating vegetables as a snack is a great habit to pick up as it can help boost metabolism.
Three out of four American adults don't eat the daily recommended vegetables. So, my answer is to eat vegetables however and whenever you can (except maybe fried)! Eat a variety of vegetables that are cooked, raw or even dried. Switch it up so you don't get bored.
Here are some of my tips to get more vegetables into your diet:
Use breakfast to get a veggie jumpstart on the day. Add leftover vegetables to an egg dish, or make a vegetable quesadilla with plenty of spinach, tomatoes and mushrooms.
Prepare double batches of vegetable dishes so that they are always within reach for a quick side dish or main entrée.
Snack on sliced peppers, sugar snap peas, grape tomatoes and asparagus with hummus or spicy peanut sauce.
Puree roasted red peppers, kale or broccoli to make colorful and flavorful sauces for pasta dishes, soups and stews.
One answer to this question is: It doesn't matter! What's important is to make sure you're eatingenough vegetables, in whatever form. Vegetables should play a major role in your diet. The U.S. National Academy of Science, the U.S. Department of Health and Human Services, and the National Cancer Institute recommend that Americans consume a minimum of three to five servings of vegetables per day.

In their raw form, vegetables provide many important phytochemicals in high concentrations. However, some of the most beneficial carotenes, such as lycopene and lutein, are better absorbed from cooked foods. In addition, it may not be wise to consume more than four servings per week of raw cabbage-family vegetables, including broccoli,cauliflower, and kale, because these foods in their raw state contain compounds that can interfere with thyroid hormone production. When cooking vegetables, it is very important not to overcook them. Overcooking will not only result in the loss of important nutrients, it will also alter the flavor of the vegetables. Light steaming, baking, and quick stir-frying are the best ways to cook vegetables. Do not boil vegetables unless you are making soup, as many of the nutrients from the vegetables remain in the water. If fresh vegetables are not available, frozen vegetables are preferable to their canned counterparts.

Although pickled vegetables are quite popular, they may not be healthy choices. They are high in salt and cancer-causing compounds. Pickled vegetables contain high concentrations of N-nitroso compounds. Once ingested, these compounds can form potent, cancer-causing nitrosamines. Several population studies have suggested an association between the consumption of pickled vegetables and cancer of the esophagus. In the U.S., we are fortunate to have a large variety of vegetables to choose from.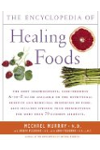 More About this Book
Encyclopedia of Healing Foods
From the bestselling authors of The Encyclopedia of Natural Medicine, the most comprehensive and practical guide available to the nutritional benefits and medicinal properties of virtually everything...
Continue Learning about Cooking & Health