Here are five simple strategies to slim your pasta sauce:
Top pasta with chopped vegetables and add ½ cup of your favorite bottled red sauce.
Use fresh herbs—they're an easy way to add flavor. If you use fresh basil, add it at the last minute to maximize its fresh, delicate taste.
For a quick, easy, nutrient-packed sauce, turn to your blender. Cook your favorite veggies, puree, add herbs and spices, and simmer. Pureed, roasted red peppers make a tasty sauce.
Pair pasta with low-fat, fiber-rich legumes, such as beans and lentils, instead of fat-laden meat sauces.
If you make your own pasta sauce, start with broths or vegetable purees as bases instead of cream and butter. If you must use fat, stick to small amounts of margarine with plant stanols or a quick spritz of olive oil or cooking spray.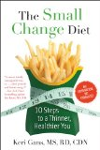 Continue Learning about Cooking & Health