Adding vegetables to desserts is a great way to enjoy something sweet with a little extra nutrition benefit. There are several ways to do it.
Create a sweet quick bread or muffin using pureed pumpkin or sweet potatoes.
Enjoy pumpkin or sweet potato pie. Because they are naturally sweet, you can reduce the amount of sugar you'd typically use for a pie.
Puree cooked black beans and add them to brownies. Sounds strange but the beans add protein and fiber and a pleasant chewiness to the finished product.
Zucchini is quite versatile and can be baked into breads, cobblers and cookies.
Roast sweet potatoes and blend with fresh ginger and milk for a smooth pudding like dessert.
Having trouble eating the recommended amount of vegetables? With a bit of creativity you can include vegetables in every meal, even dessert.
Carrots, pumpkin and sweet potatoes make great dessert ingredients and can be included in dishes like sweet potato pudding, pumpkin pie and carrot cake.
Pumpkin and zucchini work well in quick breads, such as pumpkin bread or chocolate-chip zucchini muffins.
Make a pumpkin smoothie by blending canned pumpkin, fat-free milk, frozen vanilla yogurt and a dash of pumpkin pie spice or cinnamon.
Continue Learning about Cooking & Health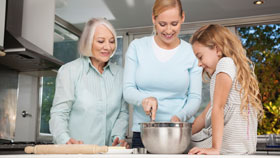 Most Americans don't prepare meals from scratch, and many eat out frequently. Reconnecting with food by cooking it can improve not only taste but health. How you cook can make a difference not only to taste, but nutrition. Boiling ...
broccoli or cabbage can destroy antioxidants. Microwaving or cooking on a griddle can preserve them. Stir-frying can be a good, quick way to prepare food too. Frozen and fresh vegetables have similar nutrient levels (not always similar taste). Canned foods do not. Some foods require adequate cooking time to ensure safety. If you think you don't have time to cook, a little planning can go a long way. Veggies may be pre-cut when time permits, and beans or pasta can be prepared in advance without loss of flavor or nutritional value. Many recipes may be modified to lower fat or sugar variations.
More