From bulb to top, fennel packs an aromatic punch. This licorice-hinted vegetable can serve many roles on your plate.

Containing vitamin A, calcium, phosphorus and potassium, the entire fennel plant is edible. Thinly sliced fennel adds a refreshing, crispy touch to salads.

Grilling, braising, sautéing or roasting mellows fennel's flavor, making it an excellent side to chicken, fish or meat. Fronds or leaves can be chopped and used as herbs in place of parsley or dill.
Here are a few fennel ideas to get you started:
Use as an easy side dish: Cut the entire vegetable into chunks. Toss with olive oil, lemon, salt and pepper. Add the white parts (the bulb) to a medium-hot grill or a skillet on the stove. When starting to get tender, add the green parts. Finish cooking until all is tender.
Try with a main course: Cut entire vegetable into small pieces, reserving the fronds. Add pieces to a foil packet with two pieces of cod, halibut or other white-fleshed fish. Drizzle with olive oil, lemon juice, salt and pepper and cook until the fish is tender and cooked through. Finely chop fronds and serve on top of fish.
Add to a dessert: Chop white parts into thin strips and sauté in a non-stick pan with 1/4-cup sugar until fennel is tender and sugar starts to caramelize. Serve over your favorite non-fat frozen yogurt or ice cream.
Fennel is easy to grow with other fresh herbs in the garden or even in a container.
Continue Learning about Cooking & Health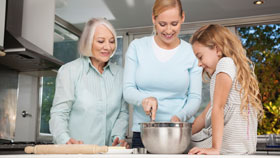 Most Americans don't prepare meals from scratch, and many eat out frequently. Reconnecting with food by cooking it can improve not only taste but health. How you cook can make a difference not only to taste, but nutrition. Boiling ...
broccoli or cabbage can destroy antioxidants. Microwaving or cooking on a griddle can preserve them. Stir-frying can be a good, quick way to prepare food too. Frozen and fresh vegetables have similar nutrient levels (not always similar taste). Canned foods do not. Some foods require adequate cooking time to ensure safety. If you think you don't have time to cook, a little planning can go a long way. Veggies may be pre-cut when time permits, and beans or pasta can be prepared in advance without loss of flavor or nutritional value. Many recipes may be modified to lower fat or sugar variations.
More