Vegetables can be added to breakfast, lunch, dinner, or snacks. At breakfast, add sliced vegetables to an omelet or a veggie burrito. For lunch add raw vegetables (bell pepper slices, sliced tomato, sliced onion) to a sandwich or prepare a homemade vegetable soup with a tomato juice base. At dinner add vegetables to a meatloaf (celery, onion, carrots and peppers) or to a chili or stew. Raw veggies with a low fat dip or salsa make for a great low calorie, high fiber snack. Thinly sliced sweet potato with a variety of spices (sweet or savory) tossed with a little olive oil and baked in the oven will make a delicious snack or side dish for a meal.
If you have trouble getting enough vegetables into your diet, you can try to add vegetables to your favorite meal. Here are tasty tricks to try:
Add vegetables for color, flavor, texture and crunch to your pizza. Options include broccoli, spinach, green peppers, tomatoes, mushrooms and zucchini.
Eat crunchy vegetables instead of chips with your favorite dip or low-fat salad dressing.
Grill colorful vegetable kabobs packed with tomatoes, green and red peppers, mushrooms and onions.
Add color to salads with baby carrots, grape tomatoes or spinach leaves.
Stuff an omelet with vegetables, such as broccoli, squash, carrots, peppers, tomatoes or onions.
Continue Learning about Cooking & Health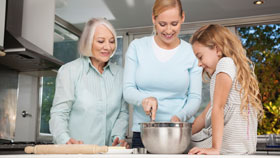 Most Americans don't prepare meals from scratch, and many eat out frequently. Reconnecting with food by cooking it can improve not only taste but health. How you cook can make a difference not only to taste, but nutrition. Boiling ...
broccoli or cabbage can destroy antioxidants. Microwaving or cooking on a griddle can preserve them. Stir-frying can be a good, quick way to prepare food too. Frozen and fresh vegetables have similar nutrient levels (not always similar taste). Canned foods do not. Some foods require adequate cooking time to ensure safety. If you think you don't have time to cook, a little planning can go a long way. Veggies may be pre-cut when time permits, and beans or pasta can be prepared in advance without loss of flavor or nutritional value. Many recipes may be modified to lower fat or sugar variations.
More