Boiling is a common, healthy and easy way to cook whole grains. Heat the water to boiling, cover the pan, reduce the heat to simmer until the grain is done.

You can use vegetable broth, apple juice, vegetable juices, onions, tomatoes, garlic and your favorite seasonings to your whole grains to improve their flavor.
Whole Grains are best cooked by boiling or steaming them, I recommend to vary the amount of water based upon the consistency of the grain in which you're looking for and to avoid over cooking, the longer you cook whole grains the more likely you are to reduce their nutrient density.
The healthiest manner in which you can enjoy the nutritional benefits of whole grains is by simply boiling or steaming them. This can be done with the help of a double boiler or grain steamer. However, the most common method is to bring the appropriate amount of water to boil in a pot with a fitted lid, add the appropriate amount of whole grain, bring to a boil again, reduce the heat, cover, and simmer for the appropriate amount of time. Whole grains are excellent foods because they are low in calories, high in fiber, and high in complex carbohydrates. Since cooking whole grains in water results in a tremendous increase in their water content, they are quite satiating due to their high bulk. Whole grains can be used as breakfast cereals, inside dishes or casseroles, or as part of a main entree.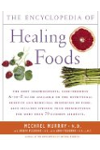 More About this Book
Encyclopedia of Healing Foods
From the bestselling authors of The Encyclopedia of Natural Medicine, the most comprehensive and practical guide available to the nutritional benefits and medicinal properties of virtually everything...
Continue Learning about Cooking & Health