Cloves contain significant amounts of an active component called eugenol, which has made them the subject of numerous health studies. These include studies on prevention of toxicity from environmental pollutants, such as carbon tetrachloride; prevention of digestive tract cancers; and treatment of joint inflammation.
In the U.S., eugenol extracts from clove have long been used in dentistry in conjunction with root canal therapy, temporary fillings, and general gum pain. Eugenol and other components of cloves, including betacaryophyllene, combine to make clove a mild anesthetic as well as an antibacterial agent. For these beneficial effects, you'll also find clove oil in some over-the-counter sore throat sprays and mouthwashes.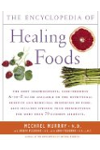 More About this Book
Encyclopedia of Healing Foods
From the bestselling authors of The Encyclopedia of Natural Medicine, the most comprehensive and practical guide available to the nutritional benefits and medicinal properties of virtually everything...
Continue Learning about Cooking & Health