Some of the health benefits of cayenne pepper include aiding with digestion, pain relief, and fighting off colds and flu with its decongestant properties. Watch emergency medicine expert Sampson Davis, MD, explain the benefits of cayenne pepper.
The intense heat produced by cayenne pepper is due to the high concentration of capsaicin. This compound is well known in clinical research as an effective pain reliever; as a digestive and antiulcer aid; and for its cardiovascular benefits. In addition, one of the reasons why tropical cultures quickly fell in love with the incredible fruit of this plant is that capsaicin has the ability to lower body temperature, helping to deal with the intense tropical heat. Capsaicin is also responsible for cayenne pepper's ability to increase basal metabolic rate and stimulate the burning of fat for energy.

Capsaicin is responsible for the irritating effect of red pepper when applied to the skin or ingested. This is due to its ability to release substance P (the "P" stands for "pain") from nerve cells, which in turn results in irritation and pain. However, once substance P is released, capsaicin works to block its reuptake. The net result is that repeated applications of capsaicin deplete substance P from small nerve fibers, thereby eventually blocking the pain sensation. A similar occurrence happens with the ingestion of cayenne pepper in that the more frequently it is consumed, the greater the tolerance.

Capsaicin-containing creams and gels are available as FDA-approved topical treatments for arthritis and pain such as that seen in diabetic neuropathy. Clinical studies demonstrate that capsaicin products applied topically can produce impressive results in cases of psoriasis, rheumatoid arthritis, and post herpes pain (post herpetic neuralgia). Topical capsaicin preparations have been shown to be an effective treatment for cluster headaches and osteoarthritis pain.

Cayenne pepper exerts beneficial effects internally as well. Perhaps most important are its effects of stimulating and enhancing digestion. A recent New England Journal of Medicine study found that daily doses of red pepper significantly reduced symptoms of indigestion in individuals with frequent indigestion (functional dyspepsia). In this placebo-controlled trial, thirty men and women with frequent indigestion were randomly assigned to receive either 2.5 g of red pepper powder thrice a day before meals or a placebo for five weeks. Each day during the trial, the study participants scored and recorded the severity of their symptoms, such as stomach pain, stomach fullness, nausea, and changes in appetite.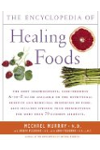 More About this Book
Encyclopedia of Healing Foods
From the bestselling authors of The Encyclopedia of Natural Medicine, the most comprehensive and practical guide available to the nutritional benefits and medicinal properties of virtually everything...
Continue Learning about Cooking & Health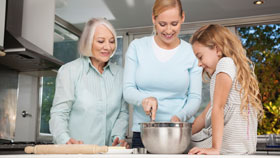 Most Americans don't prepare meals from scratch, and many eat out frequently. Reconnecting with food by cooking it can improve not only taste but health. How you cook can make a difference not only to taste, but nutrition. Boiling ...
broccoli or cabbage can destroy antioxidants. Microwaving or cooking on a griddle can preserve them. Stir-frying can be a good, quick way to prepare food too. Frozen and fresh vegetables have similar nutrient levels (not always similar taste). Canned foods do not. Some foods require adequate cooking time to ensure safety. If you think you don't have time to cook, a little planning can go a long way. Veggies may be pre-cut when time permits, and beans or pasta can be prepared in advance without loss of flavor or nutritional value. Many recipes may be modified to lower fat or sugar variations.
More