When following any eating plan, what you do (and don't do) with your fork and spoon are your most crucial actions. But don't underestimate the power of a great knife to make what you do in the kitchen as enjoyable as what you do at the table. Overpay to buy the best 8-inch chef's knife (without serrations) you can afford. And follow these rules, to avoid leaving a finger in the guacamole:
Always keep the pointed edge on the cutting board; just lever from the point and cut sliding away from you under the back end.
Always cut away from yourself.
As you're lining up foods with your non-cutting hand, tuck the top of your fingers under the bottoms, so you let your knuckles, not your whole fingers, be the guide.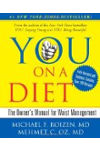 Continue Learning about Cooking & Health