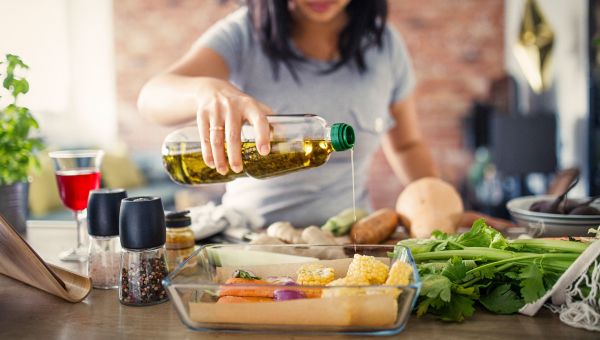 Olive, canola, peanut, sesame, grapeseed . . . these five heart-smart plant oils have one terrific thing in common: They're rich in monounsaturated and/or polyunsaturated fats, which have cholesterol-lowering benefits. But overheat them and those healthy perks may go up in smoke. Cooking at high enough temperatures to set off smoke means the oil's breaking down, losing nutrients, and releasing potentially carcinogenic free radicals. And when oil hits its "smoking point," food cooked in it tastes off. But that doesn't mean you shouldn't cook with these healthful oils. Just pick and choose what you use. Here's how.
Extra-virgin olive: It's so heat-sensitive that chefs usually recommend not cooking with it -- it's too delicate and too expensive. Instead, cook with pure or virgin olive oil, which can take much higher heat. Use them to quickly saute vegetables in a hot pan or slowly roast them in the oven -- just spritz lightly with olive oil, and then roast at 325–350 degrees Fahrenheit for an hour or so, till fork-tender.
Canola: This is a superb cooking oil. It has the least saturated fat of any vegetable oil (about half that of olive and peanut oils); it's virtually tasteless, so you can use it in anything; and its high smoking point (400 degrees Fahrenheit or more) makes it perfect for hot cooking, like stir-fries and sautes.
Peanut: It's also known for a high smoking point (around 440 degrees Fahrenheit). And if you choose refined peanut oil, it too is nearly tasteless. On the other hand, if you want the yummy, peanuty flavor that makes Southeast Asian dishes so delicious, cook with refined oil, but add a few drops of roasted peanut oil just before serving.
Sesame: Refined light sesame oil has a high smoking point (about 450 degrees Fahrenheit), which makes it terrific for stir-fries, though it doesn't add much flavor. For that, choose dark sesame oil but -- because its smoking point is a fairly low 350 degrees Fahrenheit -- reserve it for drizzling on Asian noodle dishes or miso soup.
Grapeseed: Although a tad pricier than most grocery-store plant oils, grapeseed oil's neutral flavor won't overwhelm even the most delicate fish or vegetables. Yet its relatively high smoking point (about 420 degrees Fahrenheit) means it's fine for brushing on fish or vegetables before grilling. Grapeseed oil is also low in saturated fat and high in vitamin E.