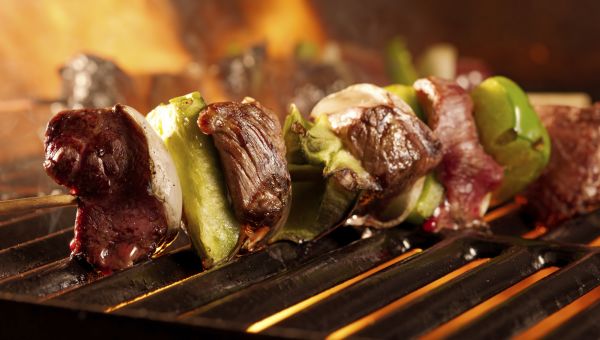 Before you fire up the grill this Memorial Day, did you know that cooking foods containing muscle—yep, not just red meat but poultry and fish, too—over sizzling heat forms cancer-causing carcinogens called heterocyclic amines (HCAs)? It's true. High consumption of barbecued, well-done or fried meats is linked to increased risks of prostate cancer, colorectal cancer and pancreatic cancer. You can easily make grilling healthy and tasty by using these barbecuing tips:
Go heavy on the veggies. Grill low-fat, low-cal portobello mushrooms, peppers and zucchini first. Veggie skewers anyone? Throw on some veggie burgers, too. They all taste so great you may decide to skip the meat and the cancer dangers, too.
Use a marinade—every time, no excuses. If you can't resist grilling meat/poultry/fish, marinate them first in olive oil, garlic, onion and lemon juice. It lowers the amount of carcinogens (scientists aren't sure why). Almost any marinade works, and using lots of rosemary also dramatically reduces the production of HCAs.
Keep heat low and cooking time short. Set the grill rack as far from the heat as possible. Partially cook foods in the oven or microwave beforehand, so all you need is a quick finish on the grill for terrific grilled flavor and far fewer HCAs.
Ditch the charred bits. Those are the riskiest stuff. Reduce charring by trimming fat and lining the grill with foil. It keeps cancer-causing smoke flare-ups to a minimum. Easier cleanup, too!
Medically reviewed in June 2018.