Don't fight hunger. Embrace hunger. Ignoring hunger can make you overeat at the end. Hunger hormone ghrelin increases when you eat very little or skip and/or delay meals, which makes your hunger out of control. Studies have shown that ghrelin affects the hypothalamus appetite control center and makes your eating a hedonic experience. So, if people are not planning and packing their meals and snacks they are at the mercy of their environment. Normally what is around is trash. It makes it very difficult if hunger is around to make mindful decisions, especially if ghrelin is high.
Your stomach secretes ghrelin, the hormone that signals hunger, in pulses every half-hour, sending subtle chemical impulses to your brain—almost like subliminal biological messages (carrot cake, carrot cake, carrot cake).

When you're really hungry or dieting, those messages come fast—every 20 minutes or so—and they're also amplified. So you get more signals and stronger signals that your body wants food. After long periods, your body can't ignore those messages.

That's why sugar cookies usually trump willpower, and that's why deprivation dieting can never work: It's impossible to fight the biology of your body. The chemical vicious cycle stops when you eat; when your stomach fills is when you reduce your ghrelin levels, thus reducing your appetite.

So if you think your job is to resist biology, you're going to lose that battle time after time. But if you can reprogram your body so that you keep those ghrelin gremlins from making too much noise, then you've got a chance to keep your tank feeling like it's always topped off—and this is a big key to finding your healthy weight.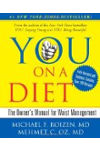 Continue Learning about Controlling Appetite