Every time you resist a food craving, you're one step closer to better health, says addiction specialist Dr. Mike Dow. To find out what to do instead of giving in to a food craving, watch this video.
A craving is an overwhelming desire for a particular food that screams for immediate fulfillment. Memories of eating a pleasure food entice us to want to taste it again and, voila, a craving is born. When a craving strikes, it takes over and becomes all we can think about. Not fulfilling the craving isn't even an option. The issue is not if we can have the object of our desire, but when.

When a craving is on the scene, it can feel like it's driving and we're just along for the ride. When we finally fulfill our desire, finally bite into that donut or piece of chocolate cake, we credit the food for the momentary bliss we feel.

But we have it backwards. It's the craving that caused the suffering, not our being deprived of the object of our desire. And it's the elimination of the craving that caused the bliss, not the food. We feel great because we're no longer burdened by the craving, yet we mistakenly give the credit to the chocolate cake.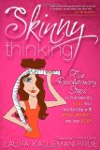 Continue Learning about Controlling Appetite