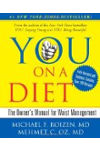 The hormone leptin, a protein secreted by stored fat that signals satiety and stimulates you to burn more calories, doesn't always work the way it's supposed to.

In some research, when leptin was given to mice, their appetites decreased just as expected. When it was given to people, they initially got thin -- but then something strange happened: They overcame the surge of leptin and stopped losing weight. That indicates that our bodies have the ability to override leptin's message that our tank is full. How? When leptin tells your defens -- the satiety chemical -- to kick in and protect you against overeating, the pleasure center in your brain says, "Pass those cookies this-a-way."

That surge from the pleasure center, which can overrule leptin's messages that you're full, is called leptin resistance (there's another form of leptin resistance as well, which happens when cells stop accepting leptin's messages).

Most obese people, by the way, have high leptin levels; it's just that their bodies have the second form of leptin resistance -- they don't receive and respond to leptin signals. Also, as you get older, you have fewer leptin receptors in your brain -- meaning that you have fewer satiety signals, which makes you more prone to gaining weight.

That doesn't mean leptin is always on the losing end of this chemical battle. The challenge is to let leptin do its job so the brain demands less food. One way to do it: Walk 30 minutes a day and build a little muscle. When you lose some weight, your cells become more sensitive and responsive to leptin.