Consequences of overeating and following a food craving when you're not hungry include:
We taste something that we like. The taste only lasts for a short time. We avoid feeling an uncomfortable feeling for the moment.
The taste leads to wanting to taste more and eat more.
We feel guilty for eating a food that is caloric and not nutritious.
We feel guilty for overeating.
We berate ourselves for not having enough willpower.
We gain weight.
We undercut our growth by not discovering the beliefs that are generating our uncomfortable emotions.
We hide because we feel too fat and can't fit into our clothes.
We lose confidence professionally and socially.
We feel physically uncomfortable: bloated, nauseated, or listless.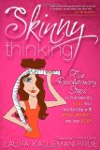 Continue Learning about Controlling Appetite