What are some simple changes I can make to lose weight?
Here are some simple changes that will help you lose weight:
Substitute a glass of water for one other beverage (soda, coffee, etc.).
Add one piece of fruit to your breakfast (a banana, or a handful of berries).
Eat fish for at least one meal per week.
Take a fruit or vegetable snack with you to work each day -- and EAT IT (instead of vending food fare).
These seem simple, but making these changes a habit will lead to a lifetime of benefit. For example, if you drink one can of soda per day, then swapping water for that can will create a caloric deficit that equals 14 pounds in one year.
In order to lose weight, you need to take control of your environment. Remove tempting foods from your house and workplace. If you snack, replace cookies, crackers and junk food with healthier alternatives, such as vegetable sticks or non-fat Greek yogurt. Try to identify and avoid situations that will challenge you, such as pizza parties or birthday cakes. Let your family, friends and co-workers know that you are trying to lose weight and enlist their support. They will be more supportive if you explain that you need them to help you resist temptation and meet your goals. Instead of going out for a big lunch, go for a walk instead. If you do find yourself stuck in a situation you cannot control, have just a few bites and stick to your resolve.
Continue Learning about Controlling Appetite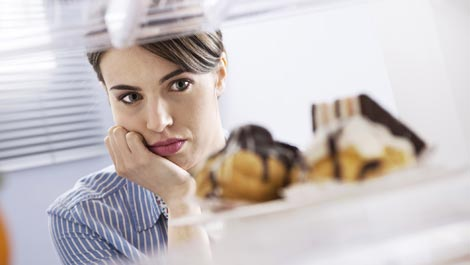 Controlling your appetite and controlling what you eat is not exactly the same thing. You may find that you're eating even when you are not hungry.