Here's how you can change your thought process that may help you prevent overeating:
Notice that a craving is on the scene and get yourself the heck out of the kitchen!
Notice that you're upset and address the upset directly using inquiry. Do this by asking yourself, "What story am I telling myself that's causing me to feel this way right now? What am I believing?"
When you discover the belief, take it to inquiry by asking the following questions:
Can I know beyond a shadow of a doubt that this belief is true? Even if you believe that it's true, go on to the next question.
What is the opposite of this belief? Could that be as true or truer? Come up with evidence to support the opposite belief. If the opposite of the belief is also true, perhaps the original negative belief isn't true after all! This discovery helps you to stop believing the stressful thought.
Replace the negative thought that's generating the feeling with a positive one. For example, replace "Nothing's going right today" with "Everything's going right today." Then come up with evidence to support the positive thought. This kung fu for cravings and emotional eating can be a bit of a slippery slope because it does keep you in the realm of thought, and when you're in thought, it's easy to go back to spinning a negative story and feeding the feeling again.
Recognize that the ego's Child (pleasure-seeking impulses) is on the scene and talk to her the way you would talk to a child who is pestering you about getting something that you don't want to give her right now. Tell her, "Not now --maybe later."
Rather than treading the well-worn path of self-soothing through food, try something different just this once. Don't give in to the usual urge -- for now. You can always decide to do that later, if that's what you want, but for now, move out of the kitchen.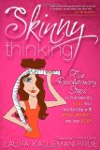 Read: Educate yourself on the subject. It is actually fascinating. I recommend In Defense of Food by Michael Pollan and The End of Overeating by David Kessler, the former head of the FDA. If you understand what makes you overeat (and what food companies know about us that we do not even know) you can start to make your own rules for yourself.


Continue Learning about Controlling Appetite