Raspberries are an excellent source of fiber, manganese, vitamin C, flavonoids, and ellagic acid. They are a very good source of vitamin B2 as well as a good source of other B vitamins, such as folic acid, niacin, pantothenic acid, and vitamin B6. A 31/2-z (100 g) serving is about 3/4-cup raspberries and provides 52 calories, 1.2 g of protein, 0.7 g of fat, and 11.9 g of carbohydrate, with 6.5 g of fiber and only 4.4 g of natural sugars (fructose and glucose).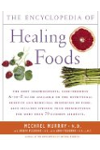 More About this Book
Encyclopedia of Healing Foods
From the bestselling authors of The Encyclopedia of Natural Medicine, the most comprehensive and practical guide available to the nutritional benefits and medicinal properties of virtually everything...
Continue Learning about Complex Carbohydrates