Foam rolling is what some fitness experts call a 'poor man's massage' because the person can apply gentle pressure to the tender spots in the muscle (or the areas that hurt really bad) and bring the bundled muscle tissues into straighter alignment. It's as though you are 'ironing out' those tight muscle knots in much the same way a massage therapist would—except a foam roller doesn't charge $60 an hour. So in essence, you're giving yourself a massage.
The key with loosening tight muscles is to slowly maneuver the roller gently over tender areas that are located in various parts of the body. Common areas include the hamstrings, quadriceps, hip flexors, IT band, and the lower back. (However, be sure to receive professional guidance when rolling out the lower back to ensure you are doing so safely.) There are tools you can buy online to target smaller areas in the neck, shoulders and upper trapezius muscles that would be unsafe to use a foam roller on.
Foam rolling is a marvelous way to stretch your tight tendons and muscles. Essentially, this log of hard foam serves as a rolling pin to roll out and stretch your tendons, and is a great way to warm up for activity. I find this tool especially good for stretching hard-to-stretch tissue like the IT (iliotibial) band, which runs down the side of your leg from your hip to your knee, and the muscles of the leg. You lie on the roller and pull your body slowly back and forth across the roller with your arms. It might be a little uncomfortable while you are doing it, but it feels unbelievably good when you are done.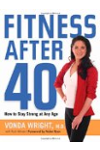 More About this Book
Fitness After 40: How to Stay Strong at Any Age
It's one of the undeniable facts of life. After we reach a certain age, our bodies change. No matter how fit we may have been at 20, we're very different people after 40. But growing older doesn't...
Foam rolling is used to help release tight muscles. By releasing the tight muscle you can restore proper blood flow and decrease your chance of getting injured. It is similar to a deep tissue massage.
Foam rolling is a technique that acts like deep tissue massage. It can provide relief for hip pain due to overuse of the IT or iliotibial band, which can cause pain and bursitis in the hip joint. Watch Dr. Oz talk more about hip joint pain.



Foam rolling is an easy way to apply pressure to any tight or knotted area on the muscle. Applying pressure to knotted muscle areas will cause them to relax. This allows for more fluid to get to the muscle and optimally aligns the muscle as these knots can change the way the joints above and below function and move across each other.

Continue Learning about Exercise Equipment