There are seven single-colored pranas: red, yellow, orange, blue, green, violet, and electric violet. There are also dual-colored pranas that combine two colors for a specific potent effect - for example, green-blue prana. (Note: Among single-colored pranas, there is also gold prana, and there are other dual-colored pranas. But gold prana and most dual-colored pranas are used only by advanced healers in specific situations.) Each color of prana has a specific rate of vibration and a grade of refinement, both of which are determined by the size of the particles that make up the prana. The vibration rate and grade of refinement, in turn, determine the prana's healing application. In general, low-vibration pranas are used for heavy-duty healing such as repairing torn tissues and broken bones, while high-vibration pranas are used for more sensitive healing efforts, such as energizing nerve tissue.
The prana with the lowest rate of vibration and refinement, and with the largest particles, is red. The prana with the highest rate of vibration and refinement, and with the tiniest particles, is electric violet. Blue and green prana are in the middle. Here's how to think of the differences in vibrational rate in relation to the size of the energy particles that make up the prana: Take a shirt button, a golf ball, and a softball. Put them in an empty shoe box one at a time and shake vigorously. Which moves around the fastest and easiest? Which is the slowest? The shirt button is comparable to violet prana, the golf ball to green and blue, and the softball to red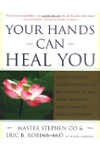 Continue Learning about Color Therapy

Color therapy is an alternative medical practice that purports to balance energy within the body. Color therapy is distinct from light therapy, which uses ultraviolet light to treat Seasonal Affective Disorder.