In dual-colored pranas, the first color in the pair is the lesser of the two colors, meaning there is less green and more blue in green-blue. The lesser color is also the inside ring. The center is bright white.

There are two ways to project dual-colored prana: Visualize the inner ring first, then surround it with the outer ring, or visualize both rings simultaneously. But most beginners find it simpler to project the colors one at a time. Experiment and see which is easier for you.

Begin pranic breathing, and as you do, keep light awareness on the source and projecting chakras. Project a pastel ring of green-blue prana about 6 inches in diameter onto your target for four cycles of pranic breathing. Either visualize them in sequence, with green as the inside ring and then blue outside the green, or visualize both at the same time.
1. Keep your awareness on your source and projecting chakras more than on your breathing. By this time, pranic breathing should be second nature to you. Utilize the short-cut visualization in the book Your Hands Can Heal You, seeing just the ring on your target rather than following the beam from your projecting hand. If at any time you need to refocus your intent, simply declare to yourself that you intend to project green-blue prana onto this target.
2. Rest and relax. Shake your hands. Then repeat the exercise three more times.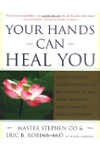 Continue Learning about Color Therapy