A few notes on working with colored pranas:

1. Electric violet is best visualized as a circle of pure blinding white light, or lightning with faint lavender edges. Here are several ways to do that: Think of the fuse on a firecracker, the tip of a Fourth of July sparkler, or sunlight reflecting off newly fallen snow. All of these produce a brilliant white flash of light.

2. Here are some advanced visualization drills: Eliminate your practice target. Rather than projecting your visualization onto a wall or sheet of paper, visualize a target in the air in front of you, and then see your pastel ring on that. Also, adjust the size of your colored prana ring, using your intent and visualization ability.

3. After you become more comfortable with establishing your intent, you no longer need to tap your source chakra. Just mentally put your intent there without physically touching it.

4. If, as you scan, you encounter a local area of tough congestion that resists regular local sweeping, poke it with green prana. Form a clear intent to break up the congestion, be aware of your throat chakra, and visualize green beams coming from the first two fingers of your scanning hand. Poke in sets of ten. Then sweep away with light green. This works particularly well for arthritic joints.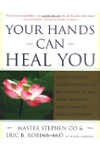 Continue Learning about Color Therapy