The choice of treatment depends mainly on the location of the tumor in the colon or rectum and the stage of the disease. Treatment for colorectal cancer may involve surgery, chemotherapy, biological therapy, targeted therapy, radiation therapy, and ablation or embolization. Some people have a combination of treatments.
Colon cancer sometimes is treated differently from rectal cancer.
Treatment for colon cancer:
Most patients with colon cancer are treated with surgery to remove cancerous growths. If the cancer is in a later stage, chemotherapy may be used. In more advanced stages, surgery must be used with chemotherapy, radiation therapy (which may be used to kill cancer cells or to relieve symptoms), targeted therapy (use of substances that target cancer cells), embolization of the hepatic artery (if the cancer has spread to the liver) and other treatments related to the spread of the cancer.
A colostomy is seldom needed for people with colon cancer.
For all stages of rectal cancer, surgery is the most common treatment. Some patients receive surgery, radiation therapy and chemotherapy. Some with advanced disease get biological therapy.
About 1 out of 8 people with rectal cancer needs a permanent colostomy.
Radiation therapy may be used before and after surgery. Some people have radiation therapy before surgery to shrink the tumor, and some have it after surgery to kill cancer cells that may remain in the area. At some hospitals, patients may have radiation therapy during surgery. People also may have radiation therapy to relieve pain and other problems caused by the cancer.
This answer is based on source information from National Cancer Institute.
Colon cancer is treated through a variety of methods—foremost being surgery to remove the cancer. Chemotherapy and radiation therapy are used in conjunction with surgery to reduce the risk of recurrence and metastasis. Your doctor will work with you to develop a treatment plan based on your cancer, lymph node involvement (stage and grade) and current physical health.
There are many ways to treat colorectal cancer, also called colon cancer or bowel cancer. Colorectal cancer treatments include surgery, chemotherapy and radiation therapy. Most people with colorectal cancer have surgery to remove the part of the bowel that has the tumor.
Chemotherapy uses drugs to kill cancer cells, while radiation therapy uses x-rays to kill cancer cells and can be used to help some people with bowel cancer who cannot be treated with surgery.
Chemotherapy or radiation therapy may be used before or after surgery to shrink the tumor. They also help get rid of any cancer cells that are left behind after surgery.
There are a variety of surgeries that can be employed if you've been diagnosed with colorectal cancer. Endoscopic surgery can be used to remove the smallest of polyps. A colectomy—the most common operation for colon cancer—involves the removal of both the cancer and the surrounding colon. If the tumor is in the rectum, a proctectomy may be required, which will eventually necessitate the use of a colostomy bag for the removal of solid waste. This is only required, however, in a small number of cases.
Radiation therapy, meanwhile, is not used in the case of colon cancer, but is used with rectal cancer. More often, chemotherapy is used as a treatment for colon cancer, and for rectal cancer as well.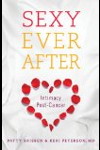 More About this Book
Sexy Ever After: Intimacy Post-Cancer
Recent studies show that 40-100 percent of men and women who have been treated for cancer have experienced some level of sexual dysfunction. Sexy Ever After: Intimacy Post-Cancer will help you reinvigorate your sex life after a cancer diagnosis and/or treatment by helping you redefine sex. Finally, the millions of men and women have been searching for answers and information about their post-cancer love lives (as well as their partners) have a resource. "Sexy Ever After: Intimacy Post-Cancer" will help you reinvigorate your sex life after a cancer diagnosis and/or treatment by helping you redefine sex. ABOUT THE AUTHORS:Patty Brisben is the CEO and founder of Pure Romance™, the nation's fastest-growing in-home direct sales company specializing in relationship enhancement products, intimacy education, and sexual health awareness. With over twenty-five years of experience working with women, she now leads tens of thousands of consultants who are touching the lives of women and couples nationwide. Through Pure Romance's Sexual Health Education Department, Patty assists women in recapturing their sensual and sexual selves following cancer diagnosis and treatment. In 2006 Patty created the Patty Brisben Foundation for Women's Sexual Health, which serves to strengthen, support, and enhance health services provided for women through education, research, and community outreach. Her notable work has put her in the national spotlight, with appearances on "The View" and CNN amongst others and profiles in leading business publications, including Forbes and Entrepreneur.Dr. Keri Peterson obtained her bachelor degree from Cornell University and received her medical degree from Mount Sinai School of Medicine. She completed post-graduate training in Internal Medicine at Mount Sinai Medical Center in New York City and is board certified in Internal Medicine. Dr. Peterson has been in private practice with a prominent medical group on the Upper East Side of Manhattan since 1999. She holds appointments at Lenox Hill Hospital and Mount Sinai Medical Center. She is a member of the American College of Physicians and the American Medical Association. With a demonstrated commitment to the advancement of medicine, Dr. Peterson has several publications in leading medical and scientific journals and has presented at distinguished medical symposiums. Dr. Peterson is a medical contributor and columnist for Women's Health Magazine and also appears frequently on the TODAY Show amongst others.
Continue Learning about Colon Cancer Treatment