The flu can be more dangerous for certain people, including the elderly and those with a chronic illness. The body's immune defenses become weaker after the age of 65, so it's harder for older people to fight the flu virus.

Likewise, certain medical conditions—and sometimes the medications used to treat them—can make it difficult to fight off flu infection. These include asthma and other chronic lung diseases, certain neurological conditions, disorders of the heart, blood, kidneys or liver, morbid obesity and conditions that suppress the immune system.
Continue Learning about Cold and Flu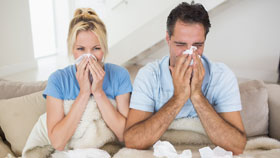 Colds and flu are both viral infections, but have different symptoms. With a cold you will have symptoms such as a runny nose or a sore throat. Flu symptoms come on suddenly and may include fever, body aches or vomiting. While the...
re is no cure for either, there are treatments -- chicken soup, nasal sprays, rest -- which can help your feel better.
More