Learn how a flu shot protects you and those around you from a potentially dangerous illness. Watch this video with internist Marc Lavin, MD from West Hills Hospital & Medical Center.
The flu vaccine is important for preventing the flu and increasing immunity among the community. In this video, Jasprit Takher, MD, a practicing internist from MountainView Hospital, explains how the flu shot helps you and those around you.
Even though you are healthy, the flu vaccination is recommended because it can protect you from the ill effects of the flu. It can also protect people around you from contracting the flu. All people older than 6 months of age are recommended to receive the flu vaccination unless they have a severe allergic reaction to eggs or one of the components in the flu vaccine. Even healthy people can contract the flu, so it is best to try to prevent it with the flu vaccination.
The flu can affect anyone, despite their level of health. In this video Darria Gillespie, MD, ER physician at Emory Hospital explains why even healthy adults should get the flu vaccine.
Continue Learning about Cold and Flu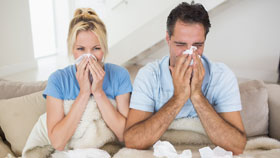 Colds and flu are both viral infections, but have different symptoms. With a cold you will have symptoms such as a runny nose or a sore throat. Flu symptoms come on suddenly and may include fever, body aches or vomiting. While the...
re is no cure for either, there are treatments -- chicken soup, nasal sprays, rest -- which can help your feel better.
More