Learn why flu season happens during the winter, plus two things the majority of flu patients have in common. Watch this video with internist Marc Lavin, MD from West Hills Hospital & Medical Center.
Flu season usually runs from October to May with a peak in December through February, says James Bush, MD, from John Randolph Medical Center. Learn what that means for your flu shot by watching this short clip.
Flu season in the United States typically starts in October and can last through May. It usually peaks in the colder winter months of December through February. However, the viruses that cause the flu are hard to predict. We don't always know what time of year the flu virus will become widespread, or if there's a particular area where more people will become sick from the flu.
Continue Learning about Cold and Flu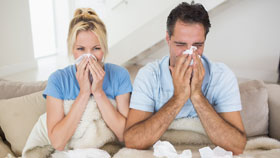 Colds and flu are both viral infections, but have different symptoms. With a cold you will have symptoms such as a runny nose or a sore throat. Flu symptoms come on suddenly and may include fever, body aches or vomiting. While the...
re is no cure for either, there are treatments -- chicken soup, nasal sprays, rest -- which can help your feel better.
More