You can reduce your risk for infections in the winter by maintaining healthy lifestyle habits. By eating a healthy balanced diet, exercising regularly, avoiding tobacco use and getting enough sleep you can help your immune system work more effectively to prevent infection. In addition, the flu vaccine can greatly decrease your risk of contracting the influenza infection, and there are also vaccines against pneumonia, meningitis, and whooping cough that you may be a candidate for. Lastly, washing your hands often will help lessen your exposure to the germs that cause infections.
Continue Learning about Cold and Flu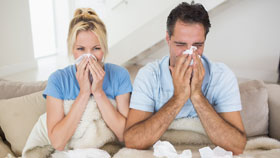 Colds and flu are both viral infections, but have different symptoms. With a cold you will have symptoms such as a runny nose or a sore throat. Flu symptoms come on suddenly and may include fever, body aches or vomiting. While the...
re is no cure for either, there are treatments -- chicken soup, nasal sprays, rest -- which can help your feel better.
More