Pelargonium sidoides (umckaloabo) is a herbal extract sometimes used for treating acute respiratory tract infections where antibiotics are not warranted. It is available in both tablet and liquid forms. The evidence is very limited for the effectiveness of umckaloabo in treating acute respiratory tract infections, however. And it has not been demonstrated to benefit overall immune function.
If you're searching for a natural way to prevent colds and flu this season, watch this video in which Dr. Oz reveals the little-known herbal rememdy umckaloabo and how it can help you sail through the season illness-free.


Continue Learning about Cold and Flu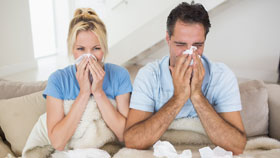 Colds and flu are both viral infections, but have different symptoms. With a cold you will have symptoms such as a runny nose or a sore throat. Flu symptoms come on suddenly and may include fever, body aches or vomiting. While the...
re is no cure for either, there are treatments -- chicken soup, nasal sprays, rest -- which can help your feel better.
More