Vitamin C
While studies have shown that vitamin C isn't helpful in preventing colds, research does show that regularly consuming vitamin C may reduce the severity of symptoms and decrease the duration of a cold should you catch it.
Zinc
In a review of 15 controlled trials, zinc lozenges or syrup were shown to help reduce the duration and severity of colds in healthy people when consumed within the first 24 hours of the first sniffle.
Chicken Soup
Maybe your mom was on to something. The heat, salt, and fluid in the soup can help you feel better and fight infection. Also, research suggests that chicken soup may have an anti-inflammatory effect on the upper respiratory tract, which can reduce the duration of the cold.
Chicken soup is one of the best things to eat to help fight a cold. Researchers have found that this simple comfort food may reduce nasal congestion.

Drinking lots of fluids will also help you fight a cold by keeping you well hydrated. Chicken soup can count as part of your daily fluid intake. Other effective beverages include herbal tea, juice and water. Steer clear of caffeine and alcohol; both can dehydrate you.

Eating a healthy diet, with plenty of fluids (as tolerated) while you're not feeling well is the best way to speed recovery.
Increasing fluid consumption maintains a moist respiratory tract that can repel viral infection.
Drinking plenty of liquids will also improve the function of white blood cells by decreasing the concentration of compounds that are in solution in the blood. The type of liquids you consume is very important. Studies have shown that consuming concentrated sources of sugars, such as glucose, fructose, sucrose, honey, or fruit juice, including orange juice, greatly reduces the ability of the white blood cells to kill bacteria. Before being consumed, fruit juices should be greatly diluted. Keep your daily intake of undiluted fruit juices to 4 to 8 ounces.
Garlic also has a long history of use as an infection fighter. Its antimicrobial activity is due to allicin, the main pungent principle produced from raw garlic. Jerusalem artichokes also have some immune-enhancing activity, as inulin has the ability to enhance a component of our immune system known as complement, which is responsible for increasing host defense mechanisms, such as neutralization of viruses. Cinnamon-containing formulas are useful in cases of the common cold, influenza, and frostbite.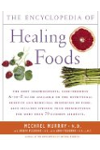 More About this Book
Encyclopedia of Healing Foods
From the bestselling authors of The Encyclopedia of Natural Medicine, the most comprehensive and practical guide available to the nutritional benefits and medicinal properties of virtually everything...
Plenty of fruits, vegetables, protein, juice, water, decaffeinated tea, chicken soup and even spicy foods are tops. Citrus fruits and chicken soup have anti-inflammatory properties, which can reduce the severity of symptoms. Fruits and vegetables contain beta-carotene and vitamins C and E, which help reduce cell damage caused by cold viruses. Zinc is also important, because a deficiency can hurt the ability of white blood cells to attack these viruses. And spicy foods help open the sinuses, which reduces congestion.
Continue Learning about Cold and Flu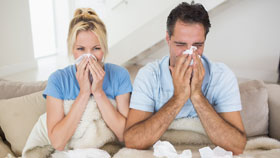 Colds and flu are both viral infections, but have different symptoms. With a cold you will have symptoms such as a runny nose or a sore throat. Flu symptoms come on suddenly and may include fever, body aches or vomiting. While the...
re is no cure for either, there are treatments -- chicken soup, nasal sprays, rest -- which can help your feel better.
More