Some medications treat the symptoms of influenza (flu) virus B, for example, decongestants can be used to reduce nasal congestion while acetaminophen and ibuprofen may be used to soothe the fever and body aches common to influenza virus B. Antiviral medications, on the other hand, actually attack the virus itself, stopping it from growing.
Continue Learning about Cold and Flu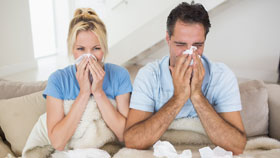 Colds and flu are both viral infections, but have different symptoms. With a cold you will have symptoms such as a runny nose or a sore throat. Flu symptoms come on suddenly and may include fever, body aches or vomiting. While the...
re is no cure for either, there are treatments -- chicken soup, nasal sprays, rest -- which can help your feel better.
More