A chest cold suggests that you had bronchitis caused by a viral infection. A cough can persist for two to three months after an episode of bronchitis.
Your immune system almost surely fought off the actual infection within a week. An infection in the bronchial tubes can leave you with inflamed airways. These inflamed airways will cause the coughing. The inflammation also can lead to tightening of the bronchial tubes. You might notice:
A tight feeling in your chest
Wheezing
Shortness of breath when you exert yourself
Mild fatigue
I usually prescribe an albuterol inhaler (Proventil, Ventolin, generic versions) to use on an as-needed basis. Adults can take up to two puffs every 4 hours as needed. If this does not control the cough, sometimes an inhaler that contains corticosteroid can be added. Rarely, a person might need 7 to 10 days of oral corticosteroid (prednisone or methyl prednisolone).
There are other possible reasons for a persistent cough, such as postnasal drip. Also, it's possible that you had a cold and now allergies are responsible for the inflamed airways and coughing.
Although the cough after bronchitis can last for 3 months, contact your doctor if the cough is not getting better after another couple weeks. Depending on the circumstances, I often order a chest x-ray when a person has a cough for more than 6 weeks.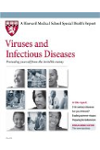 Continue Learning about Cold and Flu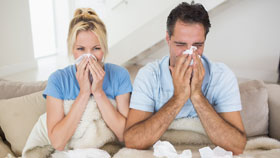 Colds and flu are both viral infections, but have different symptoms. With a cold you will have symptoms such as a runny nose or a sore throat. Flu symptoms come on suddenly and may include fever, body aches or vomiting. While the...
re is no cure for either, there are treatments -- chicken soup, nasal sprays, rest -- which can help your feel better.
More