The flu is as an upper respiratory disease or infection that is caused by different strains of the influenza virus. Every year 15-40% of people in the U.S. develop the flu. Annually there are about 36,000 deaths and 114,000 hospitalizations due to the flu or complications linked to the flu.
Continue Learning about Cold and Flu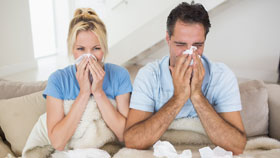 Colds and flu are both viral infections, but have different symptoms. With a cold you will have symptoms such as a runny nose or a sore throat. Flu symptoms come on suddenly and may include fever, body aches or vomiting. While the...
re is no cure for either, there are treatments -- chicken soup, nasal sprays, rest -- which can help your feel better.
More