There are a few things a few things you can do to stay healthy during flu season:
Get enough sleep.
Avoid stress.
Drink plenty of liquids, hot and cold.
Cover your nose and mouth when sneezing and coughing.
Try not to touch your face, nose or mouth. - Be aware of where germs can be around you.
Wash your hands often.
Clean your screen. Practice "device hygiene" o keep cell phones, tablets and other frequently used electronic devices free of germs.
Getting a flu vaccine is also important. If you get vaccinated and eventually come down with the flu, it's likely your symptoms will be much less severe and the time you have the flu will be shorter. National statistics show that higher vaccination rates result in fewer hospitalizations from flu-related complications.
BBoost your immune system by eating healthy, exercising regularly, and getting enough sleep in order to help prevent the flu. Watch this video to learn more tips from Dr. Randy P. Martin on how to stay health this flu season.
You can fight the flu. Watch the video for simple tips to avoid catching the flu virus.



Continue Learning about Cold and Flu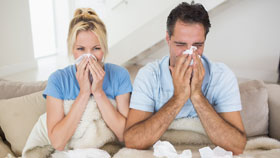 Colds and flu are both viral infections, but have different symptoms. With a cold you will have symptoms such as a runny nose or a sore throat. Flu symptoms come on suddenly and may include fever, body aches or vomiting. While the...
re is no cure for either, there are treatments -- chicken soup, nasal sprays, rest -- which can help your feel better.
More