The incubation period could be very short: within twenty-four hours of being exposed to the virus, you could start experiencing symptoms.

Trinity Health is a Catholic health care organization that acts in accordance with the Catholic tradition and does not condone or support all practices covered in this site. In case of emergency call 911. This site is educational and not a substitute for professional medical advice, always seek the advice of a qualified healthcare provider.
Cold symptoms usually appear 24-72 hours after you come into contact with the cold virus. The virus that causes the common cold can spread quickly. You can catch a cold if you are near someone who has one or if you touch something that has been contaminated with the virus. To prevent catching a cold, wash your hands often with soap and water for at least 20 seconds. Don't touch your eyes or nose, especially if you haven't washed your hands.
It takes about two days to get a cold after exposure to the virus. In this video, Larry Gooss, DO, a family practice doctor at Chippenham & Johnston-Willis Hospitals, explains how virus can continue to live on surfaces.
Watch this video to learn more from Dr. Mehmet Oz about catching a cold.



Continue Learning about Cold and Flu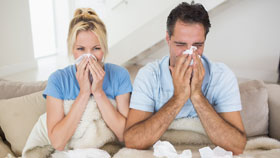 Colds and flu are both viral infections, but have different symptoms. With a cold you will have symptoms such as a runny nose or a sore throat. Flu symptoms come on suddenly and may include fever, body aches or vomiting. While the...
re is no cure for either, there are treatments -- chicken soup, nasal sprays, rest -- which can help your feel better.
More