What causes pain in my arm after a flu shot?
Most flu shots are injected into the muscle, so you may have some pain in your arm after receiving a flu shot. The shot contains an inactivated, or killed, flu virus that prompts your body to create antibodies. Sometimes that reaction leads to swelling for a day or two at the injection site.
Continue Learning about Cold and Flu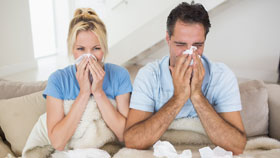 Colds and flu are both viral infections, but have different symptoms. With a cold you will have symptoms such as a runny nose or a sore throat. Flu symptoms come on suddenly and may include fever, body aches or vomiting. While the...
re is no cure for either, there are treatments -- chicken soup, nasal sprays, rest -- which can help your feel better.
More