A cold can become serious when it leads to a secondary infection such as sinusitis, bronchitis or pneumonia. Sometimes what looks like a cold may actually be strep throat, which needs to be treated with an antibiotic. A cold can also become serious in people with asthma or conditions that weaken the immune system or health in general.
In most cases a cold or the flu is annoying but not serious. If you are elderly or suffer from a chronic illness, you may develop a secondary infection that can have serious complications. If the symptoms do not improve in a few days you should consult with your Doctor.
For healthy adults, influenza may just be an inconvenience, which a few days in bed will take care of. But for those who are at risk for complications of influenza, such as young children, those over 50, those with chronic diseases such as diabetes, or those with suppressed immune systems, influenza can lead to life-threatening complications such as pneumonia. Each year, about 200,000 people in the United States must be hospitalized for complications related to influenza, and about 36,000 of these people die.
In general, colds are not serious. However, secondary infections, such as ear infections, pneumonia, and sinus infections, do sometimes occur, and these illnesses need a doctor's care.
Continue Learning about Cold and Flu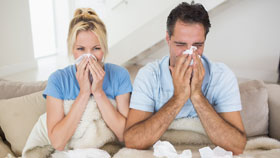 Colds and flu are both viral infections, but have different symptoms. With a cold you will have symptoms such as a runny nose or a sore throat. Flu symptoms come on suddenly and may include fever, body aches or vomiting. While the...
re is no cure for either, there are treatments -- chicken soup, nasal sprays, rest -- which can help your feel better.
More