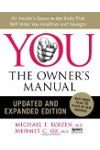 According to studies, drinking 24 ounces of coffee decreases your risk of Parkinson's disease by 40 percent and your risk of Alzheimer's disease by about 20 percent. Why? Researchers are not quite sure, except that it appears caffeine has a beneficial impact on neurotransmitters.

Caffeine's effect is substantial, whether it's coffee or in low-calorie soft drinks. It can help you live three to six months younger.

Warning: For some people, too much caffeine causes irregular heartbeats, difficulty with diabetes, upset stomach, anxiety, or migraines. And in men, if you suffer from an enlarged prostate condition called benign prostatic hypertrophy, caffeine can make it worse by causing spasms in the urethra.