People with diabetes have a higher-than-average risk of having a heart attack or stroke. These strike people with diabetes more than twice as often as people without diabetes. An exercise stress test is used to find heart disease that is evident only during physical activity. This test can also help a patient choose the most appropriate physical activity program. Also called a treadmill test, a stress test uses an electrocardiogram (ECG) to measure how the heart performs during activity, such as walking on a moving treadmill.
A stress test by definition is listed as:
A stress test is primarily used to identify coronary artery disease. It requires patients to exercise on a treadmill or exercise bicycle while their heart rate, blood pressure, electrocardiogram (ECG). and symptoms are monitored.
If you are a diabetic then having this test will be beneficial to your health. If you have had diabetes for more than 10 years then a stress test may be required prior to any forms of exercise.
In some cases, your doctor may recommend a stress test before you begin exercising. (You walk on a treadmill while having your heart monitored by an electrocardiogram [EKG]; the doctor will evaluate your heart health based on the findings.) The American Diabetes Association recommends seriously considering getting a stress test if you:
Are over age 40, whether or not you have risk factors for cardiovascular disease (such as high blood pressure, high cholesterol, ventricle enlargement)
Are over age 30 and you:

Have had type 1 or type 2 diabetes for more than ten years
Have high blood pressure
Smoke cigarettes
Have high levels of LDL (low-density lipoprotein a.k.a. "bad" cholesterol) or high triglyceride levels
Have proliferative or preproliferative retinopathy (damage to the retina in the eye)
Have the kidney disease called nephropathy, including microalbuminuria (protein in the urine)
Have any of the following conditions, regardless of age:
Have known or suspected coronary artery disease (narrowing of the arteries leading to the heart), cerebrovascular disease (narrowing of the arteries to the brain), and/or peripheral vascular disease (narrowing of the blood vessels to the limbs and organs)
Have autonomic neuropathy (damage to nerves that regulate blood pressure, heart rate, digestion and other bodily functions)
Have advanced nephropathy with kidney failure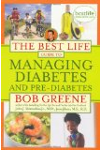 Continue Learning about Heart and Circulatory System