The following are the major factors in arterial aging:
Your blood pressure -- it's the most important indicator of arterial aging. By keeping your blood pressure at the ideal level of 115/76 mm Hg (millimeters of mercury), you can make your RealAge (physiologic age) as much as ten years younger than if your blood pressure were at the national median of 129/86, and as much as twenty-five years younger than if you had high blood pressure (140/90 or more). Almost all of us can attain the ideal blood pressure of 115/76.
Atherosclerosis -- the buildup of fats along the arterial wall -- is the second leading cause of aging of the arteries, right behind high blood pressure. The two conditions reinforce one another. Reducing the amount of lipid plaques along the walls of your arteries will help keep them young. Diet, exercise, vitamins, and even statin drugs have been documented to improve and lengthen life by reducing aging of the arteries.
Knowing your high-sensitivity C-reactive protein (hs-CRP; a substance released by the body in response to injury) value and reducing it into the normal range can make your RealAge 3.2 years younger. This blood test lets you know the amount of inflammation in your body. Inflammation can affect the arteries and immune system. Chronic infections are common and often cause elevated hs-CRP levels. When no chronic infection is identifiable, some physicians recommend taking an aspirin, exercise, trying an antibiotic for two weeks (based on the most likely pathogen and your gender, predispositions to infections, and age), and eating healthy fats. If none of these measures reduces hs-CRP to normal levels, starting a statin drug (such as Lipitor, Zocor, or Crestor) may keep inflammation in your arteries at bay.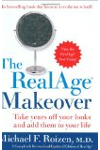 Continue Learning about Heart and Circulatory System

Your circulatory system is made up of your heart and three main types of blood vessels -- arteries, veins and capillaries. Your heart is at the center of the system, acting as a pump to distribute nutrient- and oxygen-rich blood t...
hrough your body; it then takes away carbon dioxide and other waste your body doesn't need. Signs of poor circulation include cold hands and feet, numbness, dizziness, migraines, varicose veins and pain in your feet or legs. Untreated, poor circulation can lead to stroke, high blood pressure, kidney damage and other diseases. Learn more about your heart and circulatory system with expert advice from Sharecare.
More