If you have unhealthy arteries, you won't age well. You can preserve your artery health by exercising, eating healthy and not smoking. If you have established narrowing in the arteries, taking certain medications can help prevent worsening of the arteries or heart blockage.

Trinity Health is a Catholic health care organization that acts in accordance with the Catholic tradition and does not condone or support all practices covered in this site. In case of emergency call 911. This site is educational and not a substitute for professional medical advice, always seek the advice of a qualified healthcare provider.
When it comes to aging, the single most important part of your body is your arteries. When your arteries are not cared for properly, they get clogged with fatty buildup, diminishing the amount of oxygen and nutrients that can reach your cells. When this happens, your cardiovascular system and entire body age more quickly. Having high blood pressure (a reading over 130/85 millimeters of mercury, "mm Hg") can make your RealAge (physiologic age) more than twenty-five years older than having low blood pressure (a reading of 115/76 mm Hg or below). Your arteries deliver blood and its nutrients to your skin, your heart, your brain, your muscles, your gonads, and every cell of your body. Keeping your arteries young is essential for keeping your skin, your heart, your brain, your muscles, your gonads, and every cell of your body young.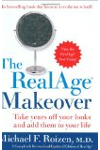 Continue Learning about Heart and Circulatory System

Your circulatory system is made up of your heart and three main types of blood vessels -- arteries, veins and capillaries. Your heart is at the center of the system, acting as a pump to distribute nutrient- and oxygen-rich blood t...
hrough your body; it then takes away carbon dioxide and other waste your body doesn't need. Signs of poor circulation include cold hands and feet, numbness, dizziness, migraines, varicose veins and pain in your feet or legs. Untreated, poor circulation can lead to stroke, high blood pressure, kidney damage and other diseases. Learn more about your heart and circulatory system with expert advice from Sharecare.
More