Researchers at Brigham and Women's Hospital found that women who drink moderately may have a lower risk of cardiovascular disease (CVD) and death from CVD, in part because of how alcohol affects the body's processing of fats and sugar in the blood.
In an analysis of data from the Women's Health Study, researchers compared non-drinkers to moderate drinkers and found that an intake of one-half to one drink a day was associated with:
26 percent lower risk of CVD;
35 percent decrease in total mortality; and
51 percent decrease in CVD mortality.
CVD is a term that encompasses all diseases of the heart and blood vessels, including stroke, and was defined in this study as a presence of heart attack, coronary bypass or angioplasty, stroke, or death from any of these conditions.
Moderate drinking was defined as 5 to 14.9 grams of alcohol a day - one-half to one drink. However, the risk of CVD among women consuming 15 to 30 grams of alcohol a day (more than one but no more than two drinks a day) was not significantly different from the risk of CVD among non-drinkers.
Learn more about the study at http://www.brighamandwomens.org/about_bwh/publicaffairs/news/pressreleases/PressRelease.aspx?PageID=514
Alcohol is a very interesting substance and the bottom line is that alcohol consumption in moderation—the key word is moderation—actually has health benefits. Modest alcohol consumption clearly has been shown to reduce the risk of heart disease especially coronary artery disease and abnormalities of the blood vessels of the extremities. It also can decrease the risk of dementia and has clearly been found to do so in women. However, as mentioned, the key word is "moderation" and that really means no more than one drink a day for a woman and no more than two drinks a day for a man. But what's really important for you to realize is that there are many other things that are much more important to decrease your risk of cardiovascular disease. Foremost among these is to not smoke. The second is to keep your weight at an ideal level or to lose weight. The third is to exercise regularly – just something as simple as walking 30 minutes a day will do, but try to get in 3 ½ to 4 hours of regular aerobic exercise each week. The next is to eat a Mediterranean diet. This means eat like you live in a Mediterranean country – eating a lot of fruits, vegetables, especially of color, whole grains, very little red meat, liberal use of olive oil and fish that contain the Omega-3 fatty acids – fish, such as, salmon, sardines, etcetera. Going back to alcohol, remember that there are other substances that also can have beneficial effects leading to cardiovascular risk reduction. This would include: green tea; probably, a lot of grape juice; maybe even pomegranate juice; and, surprisingly, coffee.
There is evidence that consumption of small quantities of alcohol on a regular basis can reduce the risk of a heart attack. The American Heart Association recommends the equivalent of one 4 oz glass of wine for women and two glasses for men daily.
There is some controversy about whether it is the alcohol or other chemicals in red wine that exert a protective effect. Some studies suggest that the alcohol is protective, but most experts believe that the benefit is due to the presence of a class of protective chemicals called bioflavonoids in red wine. These bioflavonoids are not present in white wine or beer, but are found in red grape juice. The alcohol content of red wine is thought to enhance the absorption of the protective bioflavonoids, which is why red wine is better than red grape juice.
It is important to realize that if one glass is good, three glasses are not better for heart health! The beneficial effects appear to be lost once consumption exceeds about 8 oz of red wine per day.
Much research has shown that moderate drinking—which is generally considered one drink a day for women—can lower our risk of cardiovascular disease. Recommending that women drink moderately, however, is problematic, given that many of us have difficulty controlling the amount of alcohol we drink and heavy drinking has severe negative health consequences. Moderate drinking is also associated with an increased risk of breast cancer. Before deciding whether or not to drink alcohol, it is best to consider your individual risk factors. Women who have a personal or family history of addiction or breast cancer may want to consider avoiding alcohol; however, women with no such history who do not drink may want to consider adding a daily drink.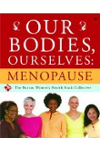 More About this Book
Our Bodies, Ourselves: Menopause
FROM THE EDITORS OF THE CLASSIC "BIBLE OF WOMEN'S HEALTH," A TRUSTWORTHY, UP-TO-DATE GUIDE TO HELP EVERY WOMAN NAVIGATE THE MENOPAUSE TRANSITION For decades, millions of women have relied on Our...
Continue Learning about Heart and Circulatory System