When you have a chronic pain condition, one repetition of an exercise each day will not fix it. You may initially have to exercise several sessions each day until the length or strength of the involved muscles are at least partially corrected. Once this is accomplished, your pain will diminish, and you can begin whittling down the exercises.

With the demands of our busy days, it can be difficult to stay focused on these changes. That is why I recommend you set up a way to remind yourself of your new goals and to check in on your habits. Wear a special bracelet, ring, string, or rubber band around your wrist to remind you of the changes you are evoking in your mind and body. Place stickers on the dashboard of your car, the clock, your watch, your telephone -- anything you use or look at frequently -- to remind yourself that you are getting better every day by correcting those habits that feed your pain.

People often believe that they will have to permanently set aside a lot of time for exercise. Not true. I am asking you to make time over the next two to four weeks to heal yourself. If that doesn't sound realistic to you, then you need to rethink your priority of fixing yourself. Each session should take no longer than five to seven minutes, two to five times each day. In total, I am asking you to take 35 minutes a day for the next two to four weeks to get rid of years worth of pain. That doesn't sound too bad, does it?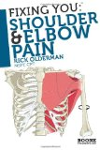 Continue Learning about Chronic Pain